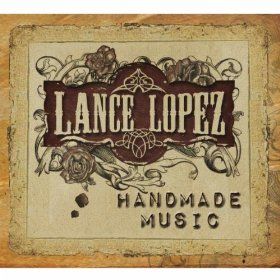 One the finest guitarists in the world and highly regarded by the best of the best has unleashed a furious piece of fretboard mastery. On "Handmade Music" released in March to North America by Lopez and his label MIG Records, he shows that he is on a level that very few ever get to.
The very first note on the first song "Come Back Home" leaves no doubt where Mr. Lopez resides. This is some of the hottest guitar work that the Lone Star state has seen since, well, the last time Lance did this
.
Track number 2, which is by far my favorite, is more rock than blues and my gawd that song rocks. Reminds me of early Zakk Wylde and BLS(yes, I know this is a blues website). One thing for sure, Lance's guitar work is absolutely flawless on that track. If Lance and MIG were looking for a blues/rock crossover tune, they found it. I don't see anything stopping that song from reaching the rock format airwaves.
Working with the famed Jim Gaines again, this entire album was recorded at the iconic Ardent Studios in Memphis, where so many other legendary artists laid down the soundtracks to a lot of our lives. Some of these bands are Led Zeppelin, Stevie Ray Vaughan, ZZ Top, George Thorogood and of course many more. It's clear that Jim Gaines and Lance were on the same page through out this recording process.
Get Out and Walk is the fifth song and it has a very "Destroyeresque" sound(just made that word up so the spelling could be off just a tad). George Thorogood fans should really dig this track.
Another highlight on "Handmade Music" was Lance's version of "Traveling Riverside Blues". Obviously this Robert Johnson song has been done a time or two before but not quite like this! Lance makes it his own and does a fantastic job in the process!
The next song on the CD is called Letters and Lopez pays perfect homage to "Slowhand" with this track and throws down some explosive leads during the solo and to finish the song off.
Lopez, who has spent a great deal of time in the last few years building his European fanbase is not only a talented musician but he is also nothing short of a walking musical encyclopedia. The man knows music history as well as anyone and music is his life.
He possesses a powerful, gravelly voice that is perfect for the high octane, guitar-driven music that he creates. As we mentioned at the beginning, Lance is already well respected and has played with many greats such as Billy Gibbons, Buddy Miles, Johnny Winter, BB King, Steve Vai and did a 3 year stint as Lucky Peterson's guitarist. Any list of guitar greats from Texas that doesn't include the name Lance Lopez is incomplete.
We highly recommend picking up a copy of 'Handmade Music' as soon as you can.
LANCE LOPEZ -HANDMADE MUSIC-
           TRACK LISTING
COME BACK HOME
HARD TIME
LET GO
DREAM AWAY
GET OUT AND WALK
YOUR LOVE
TRAVELING RIVERSIDE BLUES
LETTERS
VAYA CON DIOS
BLACK CAT MOAN
CAN YOU FEEL IT
LOWDOWN WAYS