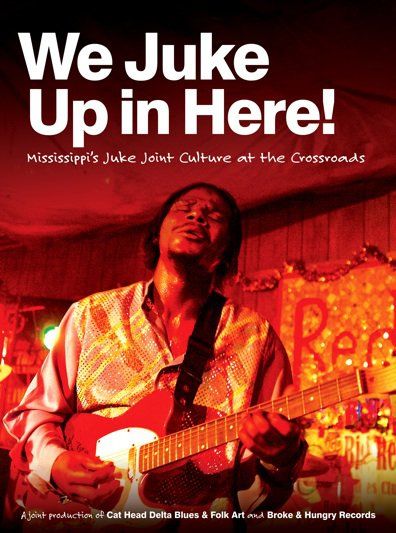 (CLARKSDALE, MS) – A new film and music project being released this spring will pull back the curtain on Mississippi's century-long tradition of down-home, quasi-legal blues clubs known as "juke joints." "We Juke Up in Here: Mississippi's Juke Joint Culture at the Crossroads" is being released in a deluxe two-disc collection with a DVD featuring the documentary along with exciting bonus features, and a CD soundtrack with music from the film plus additional recordings by the featured artists. A full-color pullout booklet includes insightful essays by the filmmakers along with extraordinary photos of the featured musicians, juke joints and proprietors.
The two-disc collection currently is available at www.wejukeupinhere.com and will be released in stores on May 15. Public screenings of the film are being held in Mississippi and beyond throughout the spring and summer.
"We Juke Up in Here" is a joint production of Broke & Hungry Records and Cat Head Delta Blues & Folk Art. The project reunites the team that produced that award-winning 2008 blues film "M For Mississippi."
"We Juke Up In Here" follows music producers Roger Stolle and Jeff Konkel as they explore what remains of Mississippi's once-thriving juke joint culture. The film is told largely from the vantage point of Red Paden, proprietor of the legendary Red's Lounge in historic Clarksdale, Mississippi. Paden, a true Delta character and jack-of-all-trades, has been running his blues and beer joint for more than 30 years – providing one of the region's most reliable live blues venues and an authentic stage for a cavalcade of veteran blues performers, both legendary and obscure. Featured artists include Terry "Harmonica" Bean, Big George Brock, Hezekiah Early, Jimmy "Duck" Holmes, Anthony "Big A" Sherrod, Robert Lee "Lil' Poochie" Watson, Elmo Williams and Louis "Gearshifter" Youngblood.
Told through live music performances, character-driven interviews and rare on-camera blues experiences, "We Juke Up in Here" takes viewers below the surface of the quasi-legal world of real Delta jukes while it's still living and breathing.
The project reunites Konkel and Stolle with cinematographer Damien Blaylock who was instrumental in the success of the earlier film, "M For Mississippi." Rounding out the production team was Lou Bopp who provided both video and still photography.
For more information on "We Juke Up in Here" visit www.wejukeupinhere.com.