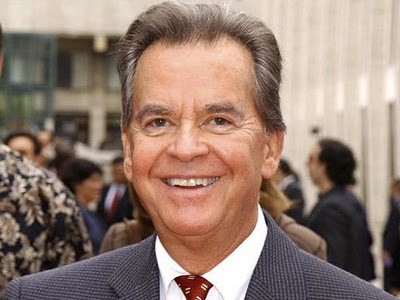 Dick Clark, the dynamic TV personality that lead the hit show 'American Bandstand', has died at 82. His manager released a statement saying Clark passed away from a massive heart attack.
Born in Mount Vernon, New York in 1929, Clark and spent a lifetime in media and entertainment. He began working at WRUN radio in New York, was a DJ at Syracuse University, and spent time spinning hits in Philadelphia before landing the job that would define his life; American Bandstand.
Bandstand brought the hottest hitmakers of the day to play live on stage while happy teenagers danced to the music. The simple formula was a smashing success, becoming a key definition of American music. Elvis Presley, Chuck Berry, The Animals, The Beach Boys, CCR and many others made an appearance on the hit show, and it quickly developed a reputation for creating hitmakers. Clark moved to Hollywood and became somethigng of a production legend, churning out numerous hit shows.
Dick Clark's New Year's Rockin' Eve, which first aired in 1972, became the go-to hit show every New Year's Eve. In recent years, Clark had shared the spotlight with Regis Philbin and Ryan Seacrest, and only took a single year off in forty years on the air — the unfortunate result of a stroke in 2004.
Clark's health had been declining since his stroke and a battle with Type 2 diabetes, which forced him to retire from his annual New Year's eve gig. Clark made his final appearance on the show in 2011.
Clark is survived by his three children from his first two marriages and his current wife, Kari Wigton.