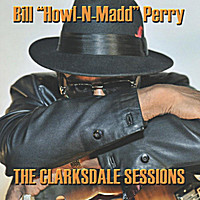 Bill "Howl-n-Madd" Perry is the delta blues musician who's incredible story find him rubbing shoulders and playing behind Little Richard, J.J Taylor, & Little Milton, working as a session musician on Chess Records, honored with a blues trail marker, and being an integral part of the blues for decades. The latest from Perry, The Clarksdale Sessions, finds the singer exploring his depths while keeping a familiar feel to his trademark sound.
"Saturday Night" is a righteous cross between jump blues and a rock n roll throwback –all around a lot of fun to listen to. The combination of Mandolin and harmonica on "Oh what a Feeling" make the track a valuable & powerful addition to the album. Several of the tracks are staunchly traditional blues. "Delta Woman", which Perry performed live at the recent celebrated Blessissippi Crossroads Concert, is a great little number about, what else?! A number of tracks are deftly enhanced by a horn presence, which graces the album with a soulful feeling.
Overall, The Clarksdale Sessions are both a representation of Perry's well-known live energy, and a further exploration of the depth of the artist's abilities. Two standout tracks are a pair of brilliantly picked covers, "Reason to Believe", made famous by Rod Stewart, and "Over the Rainbow", which was a fitting choice for Perry's unique vocals and personality, accented by a beautiful piano backing. "Believe", with it's pronounced horn, B3, and backing vocals, is the perfect fit for Perry's  endearing, gravelly voice. The album was recorded in the heart of downtown Clarksdale at Clarksdale Soundstage Recording Studio, which is owned by Gary Vincent, who also produced Sessions and contributed to several tracks. Perry's band is a family affair, with his daughter, Sharo Perry and son, Bill Perry, Jr. contributing on vocals and piano! Be watching closely for this upcoming release, and visit Blues Mamas Management for the latest news.