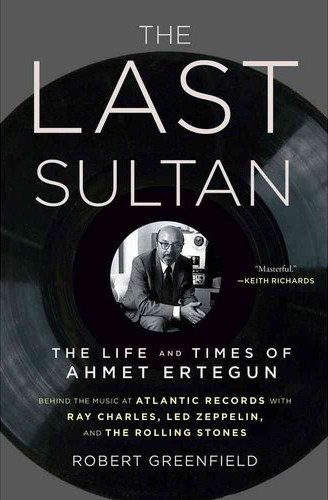 Having previously written several notable accounts and biographies of others in the music industry, including "Exile on Main Street: A Season in Hell with the Rolling Stones," Robert Greenfield this time turns his attention to Ahmet Ertegun in The Last Sultan. One of the original founders of Atlantic Records, Ahmet Ertegun's story is a narrative full of both extravagance and the obstacles the Turkish immigrant faced in his rise to becoming one of the most influential people in the music industry. Working with artists such as Ray Charles, Led Zeppelin, Bobby Darrin, Sonny and Cher, and Kid Rock, Greenfield's book does a great job in expressing the way that Ertegun oozed charm and charisma, to the point that it was infectious to those around him.
Born in Istanbul in the summer of 1923, Ahmet Ertegun's younger years were spent in privilege. Ertegun's father, a Turkish ambassador, was able to provide well for his wife and three children; older brother Nesuhi, Ahmet, and sister Selma. Spending much of his childhood in London, Ahmet, his mother and siblings joined his father in Washington D.C. in 1935, his father having been appointed as the first Turkish ambassador to the United States in 1934. It was here that Ertegun's love for music turned into a driving passion.
Greenfield goes on to discuss how Ahmet Ertegun was drawn to the music of Howard Theatre, sometimes referred to as "Black Broadway," becoming a regular by the age of fourteen. In 1940 his love of music drove him to invite performers from Howard Theatre to lunch at the Turkish embassy, a bold move considering laws and practices that still encouraged segregation. He had also begun to collect blues and jazz records, his brother joining him as a collector after returning home from school. Even from a young age, Ertegun's passion was notable as he and his brother were featured in an article in Esquire Magazine about the collection they had accumulated of over twenty thousand records. It was this fervor and his early disregard for social propriety that prepared Ahmet Ertegun for his sometimes impossible looking climb to success.
Starting Atlantic Records in 1947 with Herb Abramson, and surprising backed by his family's dentist, Ertegun took on a more social role within the company. This often left many of the business aspects of the company to Abramson and his wife, Miriam. After Abramson was drafted, much of his role was taken over by Jerry Wexler. While this gave Ertegun a way to rub elbows with artists, courting them in some ways when finances allowed, it would also cause rifts between the businessmen. In fact, Wexler, who was strictly into blues music, passed over signing the Beatles when first heard them, causing Atlantic to lose out on producing records that would help mold pop culture. Despite setbacks such as this, and Ray Charles leaving Atlantic after being offered an unprecedented deal with ABC Records, Ertegun's charm and attitude continued to bring in successful artists his way.
Known for his flashy attire and willingness to accommodate artists by partying alongside them, or trying to connect to them on a more personal level, (he actually sat on the floor of a recording studio with Buffalo Springfield when collaborating with them), Ertegun was an eccentric character. He was known among friends and business associates as being a prankster, as well as a drinker, playboy and all around hipster. Ertegun commonly frequented clubs like the Peppermint Lounge, which usually had a slew of celebrities like Judy Garland, Jackie Kennedy, the Duke of Bedford, and Tennessee Williams in attendance. Greenfield also narrates some of Ertegun and Wexler's wild trips in searching for their next big artist in the South, including traveling through New Orleans ghettos in search of Professor Longhair, and desperately trying in vain to convince Blind Willie McTell to play Blus instead of Gospel.
One of the more distressing parts of the book is Ertegun's interaction with the Chess brothers from Chess Records. Hints of details about the  inner workings of Chess records bring to light a more exploitive side of the celebrated label that has not often been seen.
Not only is Robert Greenfield able to capture the journey that Ahmet Ertegun was forced to undergo in reaching his position as a successful entrepreneur and businessman, but he also provides an astonishing amount of insight into the creation of some of the most prominent albums in history. Greenfield enthralls readers with interesting, and at times scandalous, accounts of the inner workings of the music industry. Whether interested in Ahmet Ertegun himself, or the way the music has changed and developed over time, "The Last Sultan" has proved to be an eye-opening account of worthy of any music enthusiast's time.