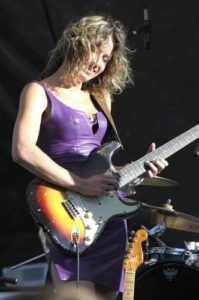 Guitar-player, singer, and songwriter Ana Popovic, who just gave birth to a healthy, beautiful baby-girl (Lenna, June 1st, 2012) is already gearing up for her upcoming 2012 North American Tour!
Mother, 4 piece band, baby Lenna and big brother Luuk (4) are ready to hit the road.
Check out the tour dates, because chances are good that the band is playing a show near you. More shows will be added to August, September and October.
Ana Popovic
The BIG Family Tour
2012 North American Tour Dates
June
29 Long Beach, CA Harvelle's
30 Silverado, CA Irvine Lakes Blues Festival
July
1 – Winter Park, CO Blues From The Top Festival
5 – London, ON The Music Hall Lounge
6 – Dubois, PA Treasure Lake Music Fest
7 – Dubois, PA Treasure Lake Music Fest
8 – Buffalo, NY Sportsman's Tavern
9 – Gravenhurst, ON Peter's Players
11 – Ellicotville, NY Balloons
12 – Rochester, NY The Big Rib
13 – Johnson City, NY PRIVATE
14 – White River Junction, VT Tupelo Music Hall
15 – Rockland, ME North Atlantic Blues Festival
16 – Woonsocket, RI Chan's
17 – Woonsocket, RI Chan's
18 – Teaneck, NJ Mexicali Live
20 – Columbia, MO 9th Street Summerfest
21 – Bloomington, IL Ain't Nothin' But The Blues Festival
24 – New York City, NY The Iridium
25 – Annapolis, MD Ram's Head
26 – Sellersville, PA Sellersville Theater
27 – Bay Shore, NY Boulton Center
28 – Cape Cod, MA PRIVATE
29 – Shirley, MA Bull Run
August
4 – Hillsdale, MI Checker Records Street Dance
10 – Duluth, MN Bayfront Blues Festival
11 – Joseph, OR Bronze, Blues & Brews Festival
15 – Tacoma, WA Jazz Bones
16 – Seattle, WA Highway 99 Blues Club
17 – Kellogg, ID Blues & Brews Festival @ Silver Mountain Resort
18 – Lebanon, OR Harvest Moon Blues Festival
31 – Houston, TX Dan Electro's
September
1 – Bedford, TX Bedford Blues Festival
2 – St. Louis, MO Big Muddy Blues Festival
3 – Sedalia, MO Dickie Doo's
5 – Lincoln, NE Zoo Bar
6 – Omaha, NE 21st Saloon
7 – Minneapolis, MN Famous Daves
8 – Grafton, WI Paramount Blues Festival
15 – Bakersfield, CA B-Town Blues Festival
16 – Vacaville, CA Blues for Bones
17 – San Francisco, CA Biscuits & Blues
18 – San Francisco, CA Biscuits & Blues
21 – Redwood City, CA Music On The Square
29 – Sarasota, FL Sarasota Blues & Music Festival
October
5 – Lake Worth, FL Bamboo Room
6 – Daytona Beach, FL Daytona Blues Festival
7 – Stuart, FL Lyric Theatre
27-31 – San Juan, Puerto Rico Legendary Rhythm & Blues Festival
November
1-3 – San Juan, Puerto Rico Legendary Rhythm & Blues Festival