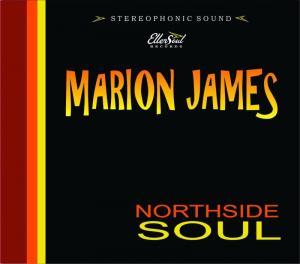 Dripping, overflowing on the floor, lie down and get into it! Seven of the thirteen songs here are originals. This woman shows that she can still bring it as good as anyone. Funk, jazz, and straight up blues, it doesn't matter. Marion James handles them all with the skill of a craftsman on this EllerSoul album to be released in late June.
Take the jazz pieces, like Crushing My Heart, Candy, the big band sound of I'm Just What You're Looking For, (you can picture the band members in matching suits behind podiums), or the New Orleans jazz feel of Next Time You See Me. Listen for the clarinet in the background of the left channel in this song. Crushing My Heart evokes that jazz club feel of days past, and is there again in Candy with the stand up bass, the piano/velvety organ combo, and the sultry sax.
Or take the funk. This woman is writing funk, and not junk funk! Oh no, you can feel that it's in her soul. Take Man Sized Job. The rhythm guitar with the pedal affect might as well have been lifted from decades ago. That rhythm guitar funk shows up again in Mr. Blues, as does the bass line during the verse. Dig those background singers! I Fell has a funky walking bass line to it that augments the Memphis soul vocal lines. The second best funk gem on this album is Smokin' Hot, with that rhythm guitar again, the snap of the drum and bass working together. Lay those lyrics on and one gets the impression you've discovered who influenced James Brown .
Then there is the blues. Corrupted World opens with a jazz acoustic piano riff doubled with touches of the electric keys, and then drops into a pure slow blues groove. The bass line is a thumping heart beat simplicity, a few sweet touches on the cymbals, and a guitar back there supporting the piano.  The team work is incredible, a hallmark of Marion James songs. I Believe to My Soul opens with electric piano, guitar touches, and then the horns and vocals, GOOSEBUMPS, on another slow blues number, with a call/response structure on the lead solo. I Know a Good Thing is a great strutting piece that marries soul and blues together with a vocal treatment that is way cool. Blues Recipe just drips with blues soul. The piano and organ open together weaving a number that starts so slow and quiet like. It gets bigger and better.  Marion definitely cooks up a blues winner here.
The best ending of a record may well be on this album. Marion covers Willie Dixon's I Just Want To Make Love to You. The temptation is to just say you need to buy it to hear it. It is absolutely awesome. It is a masterpiece arrangement in its vision. So I'll let you buy this album, which will be entirely worth it, to discover that. This arrangement though, (giving part of it away) is the funk gem of this record. The sweet percussion and guitar on the rhythm section is so good that Funk Masters of old and the world over are reverently tapping their toes and tipping their heads. At least until they get up and do the funk! When a soul as deep as Marion's collides and mixes with funk, this is the result. And man, what a joy to listen to!
This is art. This is incredibly good. This is to be your next blues purchase. This is Marion James Northside Soul.
Pre-Order a copy of Northside Soul at EllerSoul Records