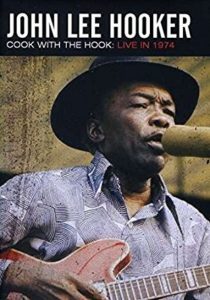 On Saturday, July 6, 1974, Mississippi-Delta bluesman John Lee Hooker was one of the star attractions at an all-day festival attended by 6,000 people. The event in the town of Gardner Massachusetts was called "Down in the Dumps" perhaps the first in what was proposed as a series of musical events to be held in the city landfill area. Luckily, very luckily, Hooker's performance was captured on a three camera shoot and broadcast on cable television in local cities and towns. ~From liner notes by Joe Viglione.
Hooker's style has always been unique, even among other performers of the real deep blues, few of whom remain with us today. While retaining that foundation he has simultaneously broken new ground musically and commercially.
He first recorded in 1948. "Boogie Chillen" became a number one jukebox hit and his first million seller. This was soon followed by an even bigger hit with "I'm In The Mood" and other classic recordings including "Crawling Kingsnake" and "Hobo Blues." Another surge in his career took place with the release of more than 100 songs on Vee Jay Records during the 1950's and 1960's.
During the late 1970's and much of the 1980's, Hooker toured the U.S. and Europe steadily. In 1989, The Healer was released to critical acclaim and sales in excess of a million copies. Since then, he continued recording his own albums (Mr. Lucky, Boom Boom, Chill Out, and Don't Look Back for Pointblank / Virgin) and contributed to recordings by B.B. King, Branford Marsalis, Van Morrison, and Big Head Todd and the Monsters and portrayed the title role in Pete Townshend's 1989 epic, The Iron Man.
His influence on younger generations has been documented on television with features on Showtime and a special edition of the BBC's 'Late Show' as well as appearances on "The Tonight Show" and "Late Night With David Letterman" among many others. John Lee was invited to perform with The Rolling Stones and guest Eric Clapton for their national television broadcast during The Stones' 1989 Steel Wheels tour.
Hooker's 1991 induction into the Rock n' Roll Hall Of Fame was fitting for the man who has influenced countless fans and musicians who have in turn influenced many more. Then, at the age of 80, John Lee Hooker received his third and fourth Grammy Awards, for Best Traditional Blues Recording (Don't Look Back) and for Best Pop Collaboration for the song "Don't Look Back" which Hooker recorded with his long time friend Van Morrison.