This is the latest in our  first-person view of the Tremblant International Blues Festival, happening now in the beautiful Mount Tremblant, Canada! Charlie, a good friend of the American Blues Scene and dedicated blues fan, is reporting from the trenches.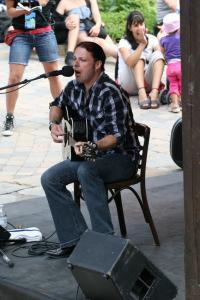 Sunday began with a workshop by Anthony Gomes, who had played the previous evening with his trio. This would be the second of his 5 appearances, and he entertained the crowd to the point he got the first standing ovation in the workshops' 4 year history. Telling stories, answering questions and playing his acoustic, the Toronto born guitarist remarked that playing music is about letting yourself be vulnerable, and performing is for us, not me. Now based in the U.S., he has a Masters Degree in Blues History, and he answered a question about which of his cd`s he liked best by saying that every cd an artist puts out should be considered a best of. He also drew a gasp and laughter when he estimated he's driven 1.6 million km for gigging in the last decade.
I then parked myself on top of the hill for sunday afternoon and evening. Bart Walker showed why he`s an up and coming star, having finished second in the band competition at the Blues Foundation's 2011 International Blues Competition in Memphis, where he also took home the Gibson Guitar Award. Playing tunes from his debut cd Who I Am, he had ex-Stevie Ray Vaughn keyboardist Reese Wynans joining him for extra flavor. He also threw in one of his hero's Freddy King's Big Legged Woman, and a reworked Whipping Post. He introduced the latter by saying if you try to do the ABB like the ABB, you lose! CHECK HIM OUT!!!
Then it was time to see Anthony Gomes again, playing solo acoustic on one of the smaller stages. He delighted the packed hillside with original and classic blues tunes. He even played my earlier request Room 414, and did a child friendly version of Ham Hock Boogie.
David Rotundo showed why he's a Tremblant favorite, backed by the Ènrico Crivellaro Band for his first performance here in several years. Just back from a tour of Russia and prancing the stage like a Canadian Steven Tyler-Mick Jagger hybrid, he held the crowd in the palm of his hand with every move. For his finale, he put in a half mile of wandering through the crowd playing his harmonica with a wireless microphone, and the overflow audience exploded with approval. The person next to me remarked David Rotundo OWNS Tremblant!
Long tall Marcia Ball capped off a beautiful evening with a well received set, spanning her entire discography. Songs like "Watermelon Time", "Red Beans", "Peace, Love and BBQ", "The Right Tool For The Job" and "That's Enough Of That Stuff" showed why the Austin-based artist may be the first person elected to both the Texas and Louisiana Music Halls Of Fame. Guitarist Mighty Mike Schermer and sax man Thad Scott played some wonderful tasty solos, and later in the set, Reese Wynans joined in on organ, as he had played on her last album, Roadside Attractions. Another highlight was her song about Hurricane Katrina, "Where Do You Go When You Can't Go Home", written with long-time friend and mentor Tracy Nelson. A perfect ending to another great day of blues.