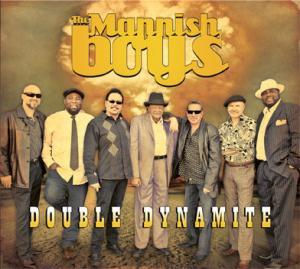 Remember the days when you bought an album and it was like going to a concert without leaving your bedroom? Wings Over America, Frampton Comes Alive, Live At The Regal, Yessongs, The Allman Brothers Live At The Fillmore, and Eric Clapton's Rainbow Concert STILL stand as great concert albums. Double Dynamite by The Mannish Boys is similar, except this is more like going to a blues supper club, seeing a great show, and then being able to take a recording of that show home with you: How many times have we all wanted to do that?
This album, the 6th from The Mannish Boys, contains 26 tracks and an incredible number of very talented musicians appearing as guests with the band. There is not enough space in this post cover all 26 tracks or all the guest artists' performances on this massive release. How about a little tease though? Guesting on guitar are: Elvin Bishop, Nathan James, Kid Ramos, and Junior Watson. Guesting on harmonica are: Jason Ricci, Rod Piazza, James Harmon, and Bob Corritore. The Mannish Boys are: Finis Tasby – vocals; Sugaray Rayford – vocals; Randy Chortkoff – harmonica and vocals; Kirk Fletcher – lead and rhythm guitar; Frank Goldwasher – lead, slide and rhythm guitar, harmonica, vocals; Willie J. Campbell – electric and acoustic bass, and Jim Bott – on drums and percussion.
Disc one, titled "Atomic Blues" starts off with a fine slow rendering of the Son House classic "Death Letter", including some stinging guitar and smooth vocal stylings from Sugaray Rayford. "Never Leave Me At Home" has a nice swing beat with some excellent harmonica work from Randy Chortkoff. "Please Forgive Me" is a rocking cut with fine vocals again from Sugaray Rayford, sinful guitar from Kirk Fletcher, and shamefully good harmonica from Randy Chortkoff. "You Dogged Me" has that Jimmy Reed vibe going on and is a fine example of laying back, and letting the groove do its own thing without getting in the way – a great call on the band's part. "The Hard Way" is a wonderful Chicago blues styling with Sugaray Rayford lending some soulful, heartfelt vocals and Rob Rio delivering excellent piano playing and timbre.
Disc two, titled "Rhythm & Blues Explosion" starts off with a Memphis inspired version of "Born Under A Bad Sign" with nice horn fills and stinging guitar lines from none other than Elvin Bishop. On James Brown's "You've Got The Power", Cynthia Manley and Sugaray Rayford lay down some sweet intertwined vocal lines that are reminiscent of the best of Marvin Gaye and Tammi Terrell, and the song is just under four minutes of slow blues bliss! Sugaray Rayford and Kirk Fletcher are in great form on a very funky version of "Drowning On Dry Land" with fine backing from the horn section and harmonica from Randy Chortkoff. "Mr. Charles Blues" has an old juke joint, slow and smokey feel to it – a very well played cut. "You Don't Love Me" has an almost big band feel to it with sparse production and acoustic bass, old style guitar and piano lines, and vocals that remind one of early B.B. King; in fact the whole cut definitely has that early B.B. King aura going on.
This is a mighty fine album. The production and engineering really let the music shine. The level of musicianship is incredibly high on all fronts and the love all these players have for their craft is apparent. Honestly, there really isn't a bad cut on this album, anywhere. This album is a "must have" – pick up a copy now.