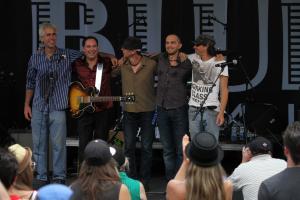 This is the latest in our  first-person view of the Tremblant International Blues Festival, happening now in the beautiful Mount Tremblant, Canada! Charlie, a good friend of the American Blues Scene and dedicated blues fan, is reporting from the trenches. 
Day 2 at Mt. Tremblant dawned cloudy inside and out, but quickly became a gorgeous day. Another nice feature of this festival is the workshops they begin every day with. Here, you get to see artists in an intimate acoustic setting, answering questions and playing songs. Super Chikan enthralled everyone with his collection of homemade guitars, many made with whatever was laying around when he was growing up, like his oil can model. I had surprised him friday night when I ran into him wandering around the village and greeted him with his trademark phrase "Shoot that thing!" He was shocked that someone recognized him in Canada. He was so gracious that he even invited me up to his room to share some blues tales, but, alas, I had to catch Debbie Davies.
Next it was off to see Italian guitar sensation Enrico Crivellaro, and he did nothing to disappoint. He began by saying he wasn't used to playing at 1 o'clock in the afternoon, and wondered if everyone was so fired up because they'd gotten up at 5 am. He remarked It's hard to boogie this early, but he had no trouble getting everyone into it. Playing selections from his recently released, all instrumental album Frewheeling, he had the crowd in the palm of his hand, especially when he and second guitarist Alberto Colombo ventured out into the audience to trade riffs. Another highlight was when Canadian harpist David Rotundo joined for a song. I only caught the tail end of Richard Carr, but he gave Leon Redbone-ish treatment to several tunes. Check out his new album on Iguane Records. Trying to bounce between the two main stages and the two smaller ones can be exhausting, as we're at the second oldest ski area in North America. I'll have Arnold Schwartzenegger legs by the time I get home!
Layla Zoe was at one of the small stages with just her guitar player Richard Boisvert, and there was not a centimeter (we are in Canada, after all) of space to be had for viewing. She did not sound like someone who had recently lost her voice for the first time in her career. Covering Howling Wolf, James Brown's "It's A Man's World" and closing with Etta James' "I'd Rather Go Blind", she howled and growled her way through a great set. Particularly riveting was her original song "Black Oil", lambasting the destruction of Alberta's boreal forests for tar sands oil, and the treacherousa path it must take in tankers to reach the sea through the pristine fiords on the coast of British Columbia.
The next act I caught after dinner was Ben Racine. With 2 saxes and a tight rhythm section it was Soul Time. Mixing originals and tasty takes on classics like "Walking The Dog", "I Got Loaded" and "Use Me Up", the crowd was begging for more. Check out his new, self-titled album, also on Iguane records.
Then it was down the hill for Toronto-based Anthony Gomes. Showing his fondness for Jimi Hendrix and Stevie Ray Vaughn, his trio tore through a fiery set. Especially smokin'was the bass solo by Scott Sutherland, who's been with him for 6 months after playing with Tommy Castro. His new album "Up 2 Zero" is well worth checking out.
Then the act everyone was waiting for, Tower Of Power. Playing eastern Canada for the first time in 30 plus years the band had a tightness only playing together for 44 years can bring. Sporting 4 original members, the 10 piece band with 5 horns had everyone's face smiling and butt shaking for their hour and a half set. the crowd would've made them play for hours more if possible. "You Got To Funkify", indeed. Thousands jammed the entry plaza as dusk fell. One particular highlight was their "I'll Still Be Diggin'On James Brown", sandwiched around several of JB's tunes. The old soul classic "Me and Mrs. Jones" was also well received. People were told to put down their beers and pump their fists in the air, and most people obliged gladly. The talent and drumhead tightness were amazing. Drummer David Garibaldi, recently inducted into the Percussion Hall Of Fame, sounded like he had 8 arms and legs with all the beats coming out of his kit. Lead tenor sax player Tom Politzer took several amazing solos, making me wonder how he stayed in the high register so long without cracking. And original saxaphonist Emilio Castillo was the consummate bandleader and ringmaster of a night of pure bliss. Check out their new DVD, recorded at the Fillmore in San Francisco, to catch the soul for yourself.
2 days down and 8 to go!