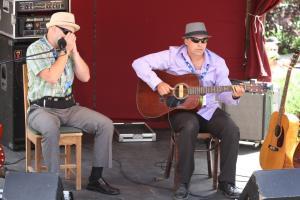 This is the latest in our  first-person view of the Tremblant International Blues Festival, happening now in the beautiful Mount Tremblant, Canada! Charlie, a good friend of the American Blues Scene and dedicated blues fan, is reporting from the trenches. 
The mountain is starting to heat up… literally, as in the afternoon a plane was roaring overhead after filling up with water in Lake Tremblant, and dropping it on a fire on the other side of the mountain. Thankfully, it was quickly contained, as the area needs rain badly, and we've only seen a sprinkle on friday night since the festival started. Somebody play Fire On The Mountain!
David Vest conducted friday's workshop, and the piano master gave a highly entertaining show, mixing vignettes from his long career with examples of the many styles of blues piano playing. Born and raised in Alabama, but now living in Canada, he gave thanks for living where blues is still appreciated by the masses. Displaying a rock solid left hand for bass lines, and a dextrous right hand for soloing, songs like "Hesitation Blues", "Yellow Dog Blues", "Whiskey And Women" and "The Memphis Blues" were accompanied by stories explaining their history. He felt Alabama artists didn't get the credit Mississippi, Texas and Louisiana ones do, even though it's roster includes WC Handy, Wilson Pickett, Emmy Lou Harris, The Muscle Shoals Horns, James Harmon and Nat King Cole. Hey, Vermont has Phish, but it's all good. Who's counting?
Also interesting was his tale of how Sun Ra was a boogie woogie piano player before he decided to say he was from Saturn and play space music. He dedicated "Love In Outer Space" to him, and then played "Go Back To Mother Earth", by Memphis Slim, whom he considers the best blues piano player ever. Maybe the most informative workshop of the festival if you're into the background of the music we all enjoy.
The next set I caught was by Bharath and his Rhythm Four, a band I discovered last year in one of the clubs. Fronted by Bharath Rajakumar, with Colin Perry on guitar, Ben Caisse on drums and Costa Zafiropoulos on upright bass, this quartet displays a deep appreciation of old school blues, and their retro outfits and equipment heighten the effect. Perry's sparse, supportive playing stood out, as did his solos. "Tell Me Mama", "The Break Of Day" and "My Love Is Here to Stay" were among the tunes that stood out. No clunkers in their set! Bharath's harmonica and guitar are steeped in the old masters. Also novel was Ben using his snare brushes on the stand up bass for percussive effect. Check out their album, Tsunami. Next up was David Vest, backed by the same Canadian All-Star Band that had backed Robin Banks, minus Colin Doley. They focused on tracks from his new album, East Meets Vest, and mixed originals from it like "Come Clean With Me", "Shake What You Got" (for which he shook a percussion egg) and "Black Dress" with covers from his old boss Big Joe Turner, and WC Handy's "Memphis Blues". Once again, stellar playing and storytelling.
Off to compete in blues karaoke — I'm one of 7 finalists! Too much blues to handle!