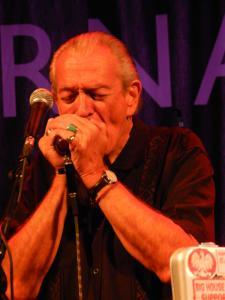 This is the latest in our  first-person view of the Tremblant International Blues Festival, happening now in the beautiful Mount Tremblant, Canada! Charlie, a good friend of the American Blues Scene and dedicated blues fan, is reporting from the trenches. 
The day's activities continued with Wichita, KS duo Aaron Moreland and Dustin Arbuckle, augmented by drummer Kendall Newby.  They were great, but friggin' LOUD!!!! Are all soundmen deaf? Using a custom made cigar box guitar that allowed him to play bass, rhythm and lead to provide a bottom for Dustin's fine, ballsy harp. Standouts included Tom Waits' "Heart Attack and Vine", "Brown Bomber" from their Just A Dream album,  "Hate To See You Go", "High And Dry (Sell My Soul)", "Rollin' And Tumblin'" and a 10 minute set closer "John Henry – Steel Driving' Man", that let everyone get a workout on their instruments. They also told the crowd the song "Good Love" was played at Mt. Tremblant for the first time ever 4 years earlier at their last appearance. Hope they're back again soon.
This festival has been a harp player's paradise. after Johnny Sansone, Charlie Musselwhite and David Rotondo, to go along with festival stalwarts Jim Zeller and Carl Trembley, tonite's headliner was Kim Wilson and His Blues All-Sars. Kim has a great talent for taking obscure blues chestnuts and making them his own. Backed by Richard Innes on drums, Barrelhouse Chuck on keys, Randy Bermudes on bass and Jeremy Johnson on guitar, they laid down a rock solid foundation for Kim to sing over or play his Mississippi saxophone. "Mean Old Frisco" and "I Feel So Bad" got things rolling, "I'm So Glad (I'm Living In The USA)",hopefully not a poke at Canada, got things rocking, and "Black Night" was a chromatic harp workout. And how can anyone not like  a song named "Good Time Charlie"? Kim is a master harp player, and he handled all styles easily. A 10 minute harp instrumental closed the set, and showed why he has written his own page in the harmonica player's history book. WOW!!
8 down and only 2 to go!
rest of day 9, 10 and wrap up tomorrow along with photos………………….