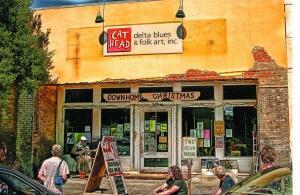 "Cat Head is the store I always wanted to walk into but could never find," Stolle remembers. "It's nothing but the blues – CDs, DVDs, books, magazines, artwork, T-shirts and souvenirs. We get tourists from around the world every week."
Cat Head Delta Blues & Folk Art will celebrate its 10th anniversary August 10-12 with free, live blues performances starting Friday afternoon and culminating Sunday with the store's annual Cat Head Mini Blues Festival.
Since opening in 2002, the Cat Head and its related projects have garnered numerous honors – from Keeping the Blues Alive and Blues Music Awards to multiple guidebook inclusions and accolades in music magazines such as Paste, which called Cat Head "one of the 17 coolest record stores in America."
Still, Stolle is quick to point out that Cat Head isn't just about selling product.
"From day one, my mission – the Cat Head mission – has been to 'organize and promote from within'," he says. "I didn't really move here to open a retail store, specifically. I moved here to get involved with Delta blues music and promote the surviving culture behind it."
Starting with his Cat Head blues store, Stolle went on to co-found Juke Joint Festival and Clarksdale Film Festival. He is also a Blues Revue magazine columnist and Sirius-XM B.B. King Bluesville radio correspondent. He is author of Hidden History of Mississippi Blues and co-producer of films such as M for Mississippi and We Juke Up in Here.
"What makes Cat Head successful is Clarksdale, Mississippi – the locals as well as the tourists and transplants our town attracts," he asserts. "Customers often say to me, 'You must really love the blues to have moved here.' I say, 'Yes, the music brought me here, but it's the people that made me stay.'"
Cat Head is located at 252 Delta Avenue in Clarksdale. More of the "Cat Head story" as well as a live music calendar and guide to Clarksdale can be found on-line at www.cathead.biz.
CAT HEAD 10TH ANNIVERSARY EVENT SCHEDULE:
Friday, August 10th:
4pm – Zach Divilbiss from Black Mountain Moan
Saturday, August 11th:
11am – SUPERBAD String Band w/R.L. BBQ & Mason Stevens
Noon – Piano Red
1pm – Christian Herring True Blues
2pm – Sean "Bad" Apple
3pm – David Raye
4pm – Davis Coen
Sunday, August 12th:
CAT HEAD MINI BLUES FEST with Robert "Wolfman" Belfour, Big George Brock, Clarine Wagner, R.L. Boyce & Steve Toney, All Night Long Blues Band and more. Free event in street near Cat Head store. Rain or shine. Store opens 9am. Music 10am till. BBQ available from Big Red.