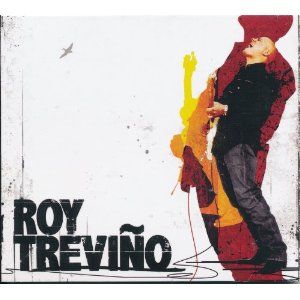 What do you get when you mix a little Los Lonely Boys, Jeff Beck, Los Lobos, Peter Green, Santana, Clapton, Stevie Ray, Johnny Winter, Muddy, Slim, T-Bone and Billy Gibbons all together and throw in some Bob Marley and a wee bit of gospel? You get Roy Trevino and his awesome self titled CD on Troubador Records, Roy Trevino.
As he says in the second song, "the boy can play." And this album goes from the gritty and fat to the smooth, to the lush, plugged in and not, with a pinch of gospel. With JJ Johnson on most of the drumming chores, backed up by Chris Maresh on bass, and recording engineer David Boyle on keyboards, Mr. Trevino, supplies the guitars and vocals and Jim Gaines produced the entire affair. Take a gulp. This isn't sipping stuff!
The album opens with the pinch of gospel, somewhat a nod to a long desire to create a blues mass. Rather fitting since the album was recorded in a former church! Gloria indeed! From there Roy does a nod to his influences with The Boy Can Play, which really is what this album demonstrates. Then we launch right into a shuffle based rocker with a fat guitar sound, Hurricanes.
After this, the groove settles into the lushness of a musical jungle. Oh man, can this guy write and play. Interspersed in a trio of Mexican/Spanish influenced tunes are the one cover on this album, a Roy Trevino funk version of Bob Marley's Lively Up Yourself. There's also Going Away, which has reminiscences of decades past, complete with organ and just the song structure, and the way the second solo trills in? Oh yea. The boy can play. And the slow blues number, Thank You? If you're a sucker for a good slow blues tune, this is a good one. Background vocals, keys, and the achey guitar, oh yea. It reminds one of Gary Moore.
The lush trio consist of Sin Ella, so elegant a piece that it ranks right up there with Santana's Abraxas . He even sings in Spanish. The acoustic guitar and electric solos fit together so well. Then that organ drops in, and mui bien is the result. Trinidad is an instrumental that starts out with a wee funky wah pedal rhythm that the lead follows, the electric piano creating a rolling hill background. The solos have that Spanish timbre and scaling that bring Santana to mind again. This trio closes out with an acoustic piece, La Luna, played on classical guitar. The hand percussion, Spanish chorus, background vocals and melody really make this tune a great little number to dance to. Not a full on hot tango, but a nice intimate Brazilian bolero.
The album closes with another acoustic number, a love song with a soft drum part and a slight electric solo singing softly in the back until it needs to come forth.  It has an organ fed lullaby feeling that aptly rolls up this album with all its different styles and characteristics as it fades slowly off….
No doubt about it, the boy can play. On Troubador records, that boy is Roy Trevino.