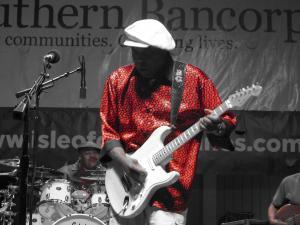 The King Biscuit Festival has just released an easy to use, helpful iPhone app, available in the Apple Store, to help guests easily plan and navigate one of the most popular, longstanding blues festivals in the country.
The Helena, Arkansas based festival, now in it's 26th year, has remained an exceptionally powerful musical force in the blues. The four day, five stage festival attracts an estimated 100,000 fans to the Arkansas side of the Mississippi Delta every year.
Performers this year include Bonnie Raitt, Taj Mahal, and Bobby Rush as headliners. Other performers include Cyril Neville, the Mississippi Spoonman, Ruthie Foster, Vasti Jackson, Carl Weathersby, Billy Branch, Samantha Fish, Lonnie Shields, Big George Brock, Roy Rogers, James Cotton, Zakiya Hooker, and Eddy Clearwater, to name a few. The festival admission is free, and tickets to the main stage are $40 each. The price of admission to the main stage has continued to remain surprisingly low in contrast to the sizable amount of talent that graces the main stage every year.
This year marks a particularly exciting occasion for blues lovers; something special is happening over an eleven day period in the Delta. Beginning the weekend proceeding King Biscuit Festival, and lasting through the Biscuit weekend is Bridging the Blues. Beginning Thursday, September 27th and continuing through October 8th, Mississippi, Memphis, and Arkansas will be overflowing with incredible music and blues-related events, jams, festivals, and must-see blues happenings in this landmark event. Find out more about Bridging the Blues.
Recent past performers have included Tommy Castro, the late Michael "Iron Man" Burks, Buddy Guy, Taj Mahal and B.B. King.