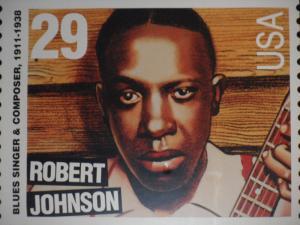 Robert Johnson, the enigmatic father of the delta blues whose mysterious passing has been a point of contention among music enthusiasts for decades, was bestowed the high honor of being placed on a U.S. Stamp, 18 years ago today.
When the stamp was released, one of a number of stamps with blues men and women on them, it was quite controversial. In one of the only known, verified pictures of Johnson, he has a cigarette hanging precariously from his lips. The Postmaster General had ordered the removal of the iconic cigarette from the painted rendition of Johnson's picture — which had both anti-censorship advocates and music fans crying foul.
Additionally, the stamp's surface did not have enough room to accommodate the original picture, so Johnson's hand on the guitar was moved. Instead of a photo booth background, this artist's rendition of Johnson featured him standing in front of a clapboard wall.
Additional famous blues figures who were bestowed the honor of stamps were Bessie Smith, Muddy Waters, W.C. Handy, Ma Rainey, and Josh White.