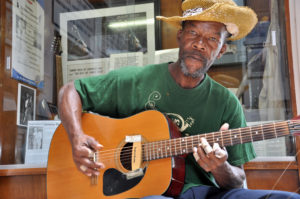 Deep in the Mississippi Delta on the famous blues highway, lies a musical treasure: the Highway 61 Blues Museum in Leland. Nestled in the cradle of American music, Leland produced some of the major influences and early movers in the blues, and carried a musical tradition that even made an indelible mark on rock & roll.
"The museum has got about 80 different Delta Blues artists from our area," says Billy Johnson, the enthusiastic founder of the museum and it's accompanying festival. "Son Thomas was from Leland… His son, Pat Thomas, plays at the museum every day." As he lists off the musical artists that came from the area, it reads like a who's who of blues music: Jimmy Reed, Little Milton, Eddie Cusic, Willie Foster, and on the list goes… Of special note is a pair of brothers who share a deep history in the small town of Leland; Johnny and Edgar Winter. "Johnny's grandfather led the town band back in the turn of the century! They had the Winter Family Band," Billy proclaims. "His father was mayor of the town, and they grew up here." Johnny was honored with a Blues Trail Marker in 2010, placed in front of the building where his father and grandfather ran a cotton company.
In addition to a vibrant museum attraction, Billy spearheads the Highway 61 Festival, which is celebrating it's grand re-emergence after last year's record-breaking flood forced the fest's first-ever cancellation. While Leland and the museum were untouched by the flooding, "It was a federal disaster area," says Billy. "They closed Highway 61 and they closed Highway 49. So they were worried about the hotels being used for evacuees. It just wasn't a time to be having a festival in the delta." Ever resilient in the face of adverse circumstances, this year's celebration looks to be the biggest ever, with a "delta all-star" lineup — a can't-miss for fans of delta blues: Pat Thomas, Eddie Cusic, T-Model Ford, Marc & Luc Borms, Eden Brent, L.C. Ulmer, Jimmy "Duck" Holmes, Cedric Burnside, Kenny Brown and many more will be gracing two stages in Leland.
This year carries another landmark in blues; the Highway 61 Festival kicks off the first-ever "Bridging the Blues" week, as one of two major festivals (the other being King Biscuit) on two consecutive weekends. In the week between the two fests, dozens of blues features are happening across the delta, several in Leland. "We're having a kick off to the festival Friday night, at a place called Bud's Blues House," with live music from delta legends Pat Thomas and Eddie Cusic. There will be several book signings around the museum, and a very special jam on Sunday at Holley Ridge, just down the road from Leland. "There's an old store out there where Charley Patton used to live," says Johnson, with a vague touch of nostalgia. "Blues musicians would come out and have a jam on Sunday," and as Willie Foster did for so long, musicians will be carrying on the tradition in a place with historic blues reverence.
Visitors with families may be excited to find that this special weekend of September 29th brings something for everyone: The same day as Highway 61 Fest is a nearby festival for another Leland native: Pupeteer Jim Henson, creator of Kermit the Frog and so many other beloved Sesame Street and The Muppet Show characters.
For fans making their way in the delta, the museum isn't hard to find. "Just come straight down Highway 61, and we're only about an hour south of Clarksdale!" If you walk in and hear live acoustic music, that's almost certainly the famous delta bluesman Pat Thomas, serenading visitors as he's done every day for years, simply for the love of the music, and the rich, vibrant history he carries on his shoulders and in his heart.