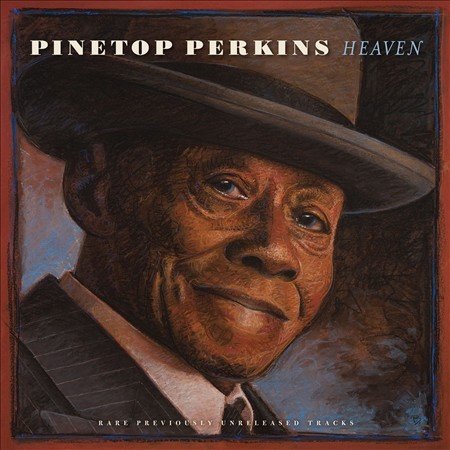 Joe Willie "Pinetop" Perkins had a long and storied career that culminated with his Grammy win (along with Willie "Big Eyes" Smith) for the CD Joined At The Hip shortly before his death in March, 2011, at a young 97. This was Pinetop's third Grammy win. As we all know, before striking out on a solo career, he was the piano playing master with Robert Nighthawk and Muddy Waters.
Pinetop was not a prolific song writer, but he was a masterful interpreter of other artist's work. Heaven is no exception. His playing here is strong, decisive, and instinctive; just absolutely amazing interpretation. Case in point is "Willow Weep For Me." You have nothing but Pinetop, yet it fills the room, and evokes a definite Jelly Roll Morton flashback. Another great cut, with Pinetop on vocal and a full band, "That's All Right" features great playing and a smooth vocal; again, the sound is sparse but fills the room and breathes.
This album is chock full of gems. "Pinetop's Blues" is a slow, Honkey-Tonk blues, again with a great vocal. "Sweet Home Chicago" has been done by everybody who is anybody, and why not – it's a great song! Pinetop's effort is swinging in a rolling, quiet way. Very nicely done. Then of course, there is "Pinetop's Boogie Woogie." What a masterpiece this is! "Sitting On Top of the World" as performed here is stunning: bluesy, and easy, with a wonderful vocal from Willie "Big Eyes" Smith recorded in 2011.
This album is definitely a keeper. It is full of seriously good arrangements and playing, and the sound is clear and sparse.; nothing detracts from the music. From start to finish this is a great listening experience. For those who consider themselves blues, jazz and or piano aficionados, Pinetop Perkins' Heaven should be on your shelf.