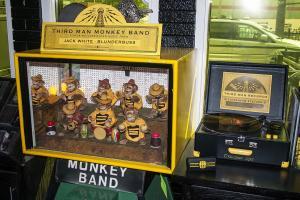 While in Nashville recently, we had the opportunity to visit Third Man Records, the brain child of blues torchbearer and rock star Jack White… and it was a blast! This venue is candy for the eclectic musical mind. The only things missing here are Tim Burton, Jim Jarmusch, and Johnny Depp running around handing you your purchased goods!
Once inside, we wanted to be everywhere at once. There were interestingly unique phonographs, one of which was blasting The White Stripes Under Great White Northern Lights (a great album!). All manner of swag and collectables filled the room, just begging for a new home. Record racks were stuffed with a good selection of various artists on vinyl and CDs, and there were awesome boxed sets available as well. Yes, T-shirts are also offered for sale.
Sadly, on the day we visited, Jack was not out and about; however we did get to meet Dani and Mimi, who provide visitors with information and awesome customer service. We spent about half an hour just drooling over various items on display (yes – they were calling to us: "Please take us home."). All in all, an excellent experience. (Again – this place is just the coolest!) If you have the time, this is a definite must see.