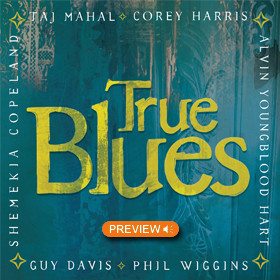 When guitarist/singer/composer Corey Harris calls the blues "the foundation of all contemporary music," he's not overstating the case. "Funk music, rock and roll, jazz, hip-hop – all of that didn't generate by itself," says Harris, the recipient of the 2007 MacArthur Genius Grant who has committed much of his career to exploring the connections between gospel, early jazz, reggae and West African music. "It came from somewhere. The reason that the blues is important today is because it connects us to where these different musics came from – and who they came from."
Harris is just one of a team of premier blues artists who appear on True Blues, a 13-song live CD set for release May 28, 2013 (international release dates may vary) on Telarc, a division of Concord Music Group. Recorded at various venues throughout the United States including Jazz at Lincoln Center in New York, True Blues explores and celebrates the genre and follows its rich history from the Mississippi delta of the early 1900s to the present day. The album includes stellar and authentic performances by Harris, Taj Mahal, Shemekia Copeland, Guy Davis, Alvin Youngblood Hart and Phil Wiggins. A companion DVD, produced by Harris and Daniel Patinkin, will be released worldwide in summer 2013.
"I think the blues is about telling your story," says Copeland, an acclaimed GRAMMY®-nominated vocalist in her own right and the daughter of legendary Texas blues guitarist Johnny Copeland, who carried the torch for five decades until his death in the late 1990s. "It's been part of my life for my entire life. It's what put food on our table. My father supported our family by making this music. That's why it's important for me to let people know that it's constantly growing and evolving."
The set opens with the classic "Hoochie Coochie Man," one of the most recognized and oft-covered songs in the vast blues canon. Recorded live at Jazz at Lincoln Center in New York, this grinding version is a collaborative effort, with Guy Davis, Corey Harris and Alvin Youngblood Hart trading off verses, punctuated by Phil Wiggins' clean and warbling harp riffs.
Harris proves that he's a genius with a deep groove as he offers up a brilliant solo version of Sleepy John Estes' "Everybody Got To Change Sometime." Captured live at House of Blues, Los Angeles, CA, he sings the track in a way that connotes both passion for life and a higher purpose.
Willie Johnson's "Motherless Children Have a Hard Time," recorded at Howard Theatre in Washington, DC, features a hypnotic solo guitar and vocal performance superbly executed by Alvin Youngblood Hart, who evokes the old masters of the Mississippi delta in the days before electric guitar pickups and high-tech recording technology. Equally chilling is Hart's galloping "Gallows Pole," also recorded at Jazz at Lincoln Center, later in the set.
Taj Mahal serves up his churning "Done Changed My Way of Living" with the help of his Taj Mahal Trio. Recorded at Ram'' Head On Stage in Annapolis, MD, this elder statesman of the blues takes the recording's bravado quotient to an entirely new level with his trademark growl that's reminiscent (either by design or by accident) of the great Howlin' Wolf. Deeper into the set, the trio remerges for a rendition of "Mailbox Blues" that hints at the mid-20th century swing music that would eventually evolve from the blues tradition.
Shemekia Copeland – with help from Hart, Harris and Wiggins – softens things up and turns up the heat at the same time with the sultry "Bring Your Fine Self Home," a slow and simmering track whose urgent lyrics leave little question about what the singer is after: "What I need I can't get on no telephone."
Copeland, Hart, Harris and Wiggins trade vocals again on the closer, "Ramblin' On My Mind," but it's Wiggins and his harp who steal the show with a seemingly limitless array of textures and riffs inserted between each verse.
True Blues – like the music and the tradition that it celebrates – runs the gamut of human emotion and worldly experience. When the voices and the songs and the stories are true, the blues offers something for every listener at every possible step on his or her journey.
"You have some sadness, or you have some trouble in your life sometimes," says Wiggins. "And then sometimes you have joy. The blues is really about all that. It's not just about one emotion or one part of life. It's about all of your life."
But performing remains a blues artist's first love. With a string of upcoming tour dates, look for Corey Harris, Taj Mahal, Shemekia Copeland, Guy Davis, Alvin Youngblood Hart and Phil Wiggins to share the magic of True Blues onstage.