This is the latest installment in our weekly series entitled, The Language of the Blues, where author and rocker Debra Devi focuses on the meaning and significance of a unique word used in blues song. Come back every week for the latest! Devi's The Language of the Blues: From Alcorub to ZuZu is now available at Bluescentric.com!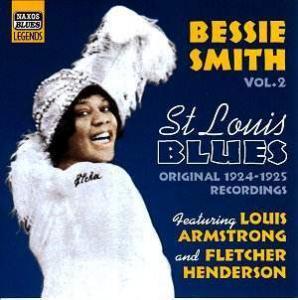 From the early 1900s to the 1930s, certain speakeasies/brothels in African American urban communities were known as "buffet flats." These joints offered a buffet of booze, sex shows, marijuana and other illegal diversions, typically in a privately owned apartment or a house that had been divided into apartments (flats).
The Chicago Tribune reported on January 24, 1911, that "from Twenty-second Street south in Michigan Avenue, Wabash Avenue, State Street, and the cross streets as far south as Thirty-first Street is a rich district of the so-called buffet flats. There, too, can be found hundreds of handbooks, gaming houses, and all night saloons of the most vicious character." By 1927, at the height of Prohibition, an article titled "Buffet Flat Solves Many of High Society's Drinking Problems" estimated that New York City had some 10,000 buffet flats operating in Manhattan and Brooklyn.
As Bessie Smith's biographer, Chris Albertson, explained in the liner notes for Bessie Smith, The Complete Recordings, Vol. 5 (Sony 1996), the buffet flats also served as banks for the African American community's most respectable citizens- the Pullman train porters. The porters made better money than most African Americans at the time, but they were constantly traveling and unable to safely deposit their earnings in a bank.
During layovers in cities like New York and Detroit, therefore, the porters banked (and let off some steam) at buffet flats. "If you were carrying a lot of money," a retired porter told Albertson, "you would leave it with these women rather than have it in your pocket."
Bessie Smith was a heavy-set, dark-skinned woman with mischievous eyes and a face like a full moon. Early in her career she was rejected by Irvin C. Miller, the powerful African American show producer, because her dark complexion conflicted with his motto "Glorifying the Brownskin Girl." Smith didn't cut her first side for Columbia until 1923, when she was almost 30. Her debut, a gripping version of "Down Hearted Blues," sold nearly 800,000 copies in six months and made her a star who sold out whites-only theaters as quickly as she did black venues.
Society's outcasts adored Bessie Smith as one of their own. And they knew just where to take her after a show- to a buffet flat. The buffet flat was also a safe place for the drag queens who followed Smith's tours from town to town to congregate. Smith immortalized a buffet flat she and her niece Ruby partied at in Detroit in "Soft Pedal Blues," which described a neighborhood lady's after-hours joint:
She give a dance last Friday night that was to end at one
But when time was almost up, the fun had just begun
Smith stops short of describing exactly what went on at the flat, beyond singing:
I'm drunk and full of fun, go and spread the news
I've got them soft pedal blues
The pianist is using the soft pedal on the piano, as the lady of the house- afraid of being busted for keeping a party going after-hours- has warned the crowd to "have all the fun, ladies and gents/but don't make it too loud."
Ruby, who traveled on tour with Bessie, held nothing back in a recorded interview called "Life on the Road," conducted by Albertson. "A buffet flat is nothing but faggots and bull daggers," Ruby Smith explained. "Everything, everybody that was in 'the life.'
Buffet means everything goes on. They had a faggot that was so great that people used to come there just to watch him make love to another man. He'd give him a tongue bath and by the time he got to the front of that guy he was shaking like a leaf. People would pay good just to see him do his act."
Bessie knew how to get a party rolling herself. One night, she and Ruby wound up at a buffet flat after a show with "three girls, myself, and one gay fellow," Ruby recalled.
"We all got to drinking and having this ball and all the sudden Bessie said, 'Oh shit, stop all this motherfucking around and let's get naked and be ourselves.' Well, we had one full-size bed and everybody got in that bed. Talk about knowing what to do, there was three girls, and Bessie and I and the landlady- that's six. Do you know that cat went through the whole crowd? And got up and walked like a man! He said, 'I've had my ball, now I'm gonna call up my husband.'"
Bessie Smith – "Soft Pedal Blues"