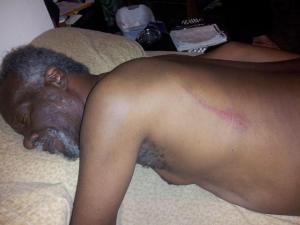 Update: Lester opens up about his brutal on-stage assault
Lester Chambers, the former lead singer of The Chambers Brothers and the singer of influential hits, "People Get Ready", "Uptown", "I Can't Turn You Loose", and many more, was assaulted by a woman on-stage after he dedicated "People Get Ready" to Trayvon Martin at the Russell City Hayward Blues Festival. The events took place while the jury was in deliberations. His son, Dylan, announced the news on his Facebook page.
Dylan Here…. Lester was just assaulted on stage at The Russell City Hayward Blues Festival by a crazed woman after dad dedicated 'People Get Ready' to Trayvon Martin. He is on the way to the hospital now.
The 73 year old singer made national news last year when he spoke out during the "99% movement" about not being paid royalties for the majority of his career and, after making music history over a decades-long career, has yet to be paid. Since then, Chambers found great support, and had recently announced that he was in the process of recording his first album in more than 40 years.
Lester Chambers was born and raised with his seven brothers and five sisters in pre-WWII rural Lee County Mississippi. His god-fearing Baptist parents encouraged all thirteen of their children to sing in the choir of a little country church where his father was a Deacon.
UPDATE (July 16): 
Lester is an uninsured musician, and after being rushed to the hospital following his assault, faces mounting medical bills and a challenging recovery. To help contribute to Lester's medical bills, a tax-deductable donation can easily be given to the Sweet Relief Musician's Fund, a 501(c)(3) organization, that will directly benefit Chambers.
Donations can easily be made online here: https://www.sweetrelief.org/donate/general-fund/, please add 'Sweet Relief Lester Chambers Fund' as the dedication.
Donations can also be mailed to the address below, (checks can be made out to 'Sweet Relief Lester Chambers Fund'): 
SWEET RELIEF LESTER CHAMBERS FUND
2601 E. Chapman Ave., Suite 204
Fullerton, CA
92831
UPDATE (July 15):
Chambers told the audience if Mayfield were around today, he'd change the lyrics "there's a train a comin'" to "there's a change a comin,'" his wife Lola Chambers told a newspaper Sunday.
"She must have been an acrobat. She did it in one leap. He didn't see her coming," Lola Chambers said.
Eyewitnesses and Hayward police said people on stage subdued Andrews Potter after she allegedly shoved Chambers. Though the police investigation into a motive continues, family members believe the attack was racially motivated and was a result of Chambers' mention of Martin. The family is pressing police to file hate crime charges. Andrews
Potter is white, they said. Chambers is black.
Hayward police took Andrews Potter to the police station, where she was arrested on suspicion of battery. She was cited and released, and could face additional charges in the coming days, according to Hayward police Lt. Ruben Pola.
Chambers, a Petaluma, CA resident, was taken to the hospital but has since been released, and is using a cane to walk. A photo his son posted on Facebook shows a large welt on his backside. His son said Chambers had a "bruised rib muscle and nerve damage and he is sore all over."
Chambers was a member of the 1960s soul group Chambers Brothers and has had a well-publicized fight with record executives over decades of royalty payments he said he has never received.
The Chambers Brothers will be part of the inaugural class inducted into the R&B Hall of Fame later this year, Lola Chambers said