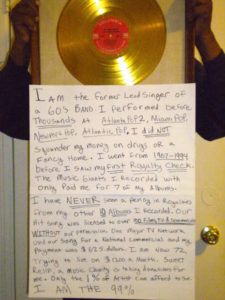 Lester Chambers, former lead singer of The Chambers Brothers, highlights the hard reality of the record company's exploitation of its artists. Chambers sang such hits as "Time Has come Today", "People Get Ready", "Uptown", "I Can't Turn You Loose" and "Funky", went for almost thirty years without seeing a royalty check, and has still to see the majority of payment due to him for all of his recordings.
Chambers has suffered great hardship over the years through no fault of his own, and was most recently sleeping in a rehearsal room, until Yoko Ono and Sean Lennon offered to pay his rent on a home for him and his son in 2010.
Last year, Chambers was inducted into the West Coast Blues Hall of Fame, which is an honor, but hardly full recompense for all the years of being screwed over by record companies.
I AM the former Lead Singer of a 60's BAND. I performed before thousands at Atlanta Pop 2, Miami Pop, Newport Pop, Atlantic Pop. I did NOT squander my money on drugs or a fancy home. I went from 1967-1994 before I saw my first Royalty Check.

The Music Giants I recorded with only paid me for 7 of my Albums.

I have NEVER seen a penny in Royalties from my other 10 Albums I recorded. Our Hit Song was licensed to over 100 Films, T.V. & Commercials WITHOUT our permission. One Major TV Network used our song for a national Commercial and my payment was $625. dollars. I am now 72, trying to live on $1200 a month. Sweet Relief, a music charity is taking donations for me.

Only the 1% of Artist can afford to sue.

I AM THE 99%
Check here for the Lester Chambers' Sweet Relief Charity Fund.
The Chambers Brothers perform "The Time Has Come Today".