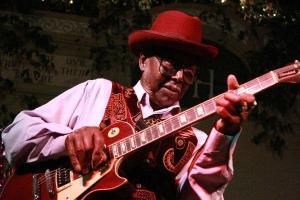 Texas Johnny Brown, the 85 year old Houston blues legend, has died. Brown, who penned Bobby Bland's hit "Two Steps From the Blues," was well known in the texas area as the "classiest act in the business". Recently diagnosed with liver cancer, Brown declined chemotherapy treatment. He passed away peacefully in his sleep on July 1st.
Brown's blues craft was the family business; his father a blind bluesman from Mississippi. Living in Texas since the age of ten, Johnny was an influential fixture on the Houston scene for decades.
The diminutive, dapper bluesman has been a fixture on the Houston blues scene since arriving here from Mississippi at the tender age of ten with his father, who was a blind blues musician. Brown worked with his father for some time before beginning a successful solo career.
In September of 2011, Brown's home state of Mississippi awarded him a market on the Mississippi Blues Trail at the town of his birth, Ackerman, Mississippi.
Brown had a monthly engagement at Houston's The Big Easy for years.