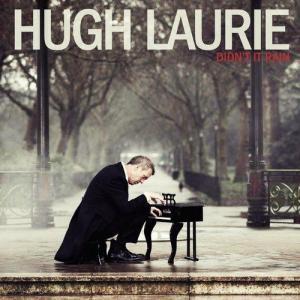 Some folks think that celebrities should stick to what they do best. For instance, actors should stick with acting and not attempt to make record albums. This conventional wisdom has been mostly borne out over time. As with every "rule," there are exceptions. A person would have to be residing on the dark side of the Moon not to know who Hugh Laurie is. From 2004 – 2012 he played Dr. Gregory House on the TV drama, House, winning two Golden Globe awards, two Screen Actors Guild awards, and six Emmy nominations. So, when Laurie released Let Them Talk in 2011, initially, there was a collective groan. Then, what do you know? People started actually listening to the mostly blues based album, and found out that it was good. How about that?
Laurie has now issued Didn't It Rain, out on Warner Bros., which ventures a little further up the Mississippi and explores some of the music that was born in the heartland. Other music is celebrated as well. At just under 54 minutes, there is plenty of music here to savor. Although not specifically NOLA based, there are strains of its heritage sprinkled throughout. The album is subdued, mellow, and wonderfully understated. The atmosphere of the album is very unhurried, which really let's the music speak. This is an album you gently wade into, and it quietly envelopes you before you realize it.
Laurie is content to be part of the music, not the frontman. The personnel on the album do a superb job, providing just the right vocal and sonic touch to each song. Laurie plays piano, guitars and provides vocals. Joining Laurie are the Copper Bottom Band, and guests, including Taj Mahal. Vocals feature Guatemalan singer/composer Gaby Moreno and the soulful Jean McClain. Standout tracks include the W.C. Handy classic, "St. Louis Blues," Champion Jack Dupree's "Junker's Blues," and "Vicksburg Blues," with Taj Mahal singing the lead. Also of note are the slow, moody, "The Weed Smoker's Dream," and the almost Tango sounding "Wild Honey."
This is an album for those who appreciate historic atmosphere that is moving, in a quiet, unassuming way. Check it out soon.