This is the latest installment in our weekly seriesThe Language of the Blues, where author and rocker Debra Devi focuses on the meaning and significance of a unique word used in blues song. Come back every week for the latest! Devi's The Language of the Blues: From Alcorub to Zuzu is now available at Bluescentric.com!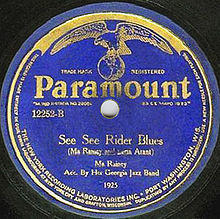 Everyone from Leadbelly to the Grateful Dead has performed "C.C. Rider," but the question remains: Who was C.C. Rider? The song is listed as "traditional," meaning that no one knows who wrote it.
During the Civil War, C.C. stood for Calvary Corporal, and riding is the most common metaphor for sexual intercourse that shows up in the blues. A rider is a sexual partner, a steady lover. So, was a woman singing to her rambling soldier lover in "C.C. Rider"?
Over time, "C.C. Rider" became "See See Rider," which is how Ma Rainey recorded it in 1924:
See see rider, see what you have done, Lord, Lord, Lord
Made me love you, now your gal has come
You made me love you, now your gal has come
Riding as a euphemism for sexual intercourse was common in English for centuries, according to Lexicon of Black English. Author Joey Lee Dillard notes, however, that "there is in non-Black usage a strong tendency for the 'rider' to be masculine…. In Black usage, on the other hand, it refers with approximately equal frequency to either sex."
Using a condom is "riding with the saddle on." If a woman has sex with several men in a row, she is "riding the train" and her last partner is "the caboose." The riding metaphor in the blues has kept up with technology, with the best "rides" compared to the sharpest cars, as in "Scarey Day Blues" by "Blind" Willie McTell:
When my baby go to bed, it shines like a morning star
When I crawl in the middle, it rides me like a Cadillac car
Riding is also used metaphorically in the Voodoo, or Vodou, religion to describe divine possession. At Vodou ceremonies, the priest or priestess attempts to invoke spirit-gods called loa to possess or "mount" members of the congregation. Prayer, dancing, and offerings, such as rum or roosters, summon the spirits. A loa will descend to ride the body of the worshipper who has succeeded in reaching a state of readiness for ecstatic union with the divine. The morality implicit in this is stated in the Haitian proverb, "Great gods cannot ride little horses."
The concept of a deity "riding" a worshipper transferred from African ceremonies to African American Christian churches, where the cry "Drop down chariot and let me ride!" was often heard, as well as "Ride on!" and "Ride on, King Jesus!", which led to the use of "Right on!" as a statement of approval or enthusiasm.
"C.C. Rider" is an enduring blues standard that has been recorded by many legends, including Ma Rainey (solo, as well as with Louis Armstrong and with Lester Young), Leadbelly and Robert Jr. Lockwood. This simple old song has also produced hits for Elvis Presley, The Animals and, yes, even Cher.
Got any theories about "C.C. Rider" you'd like to share? Hit the comments!
Song:
"C.C. Rider"- traditional
Songs:
VIDEO
"See See Rider" – Ma Rainey

"C.C. Rider" – The Animals

"C.C. Rider" – John Mayll's Bluesbreakers with Special Guests (Albert King, Junior Wells, Buddy Guy & more)