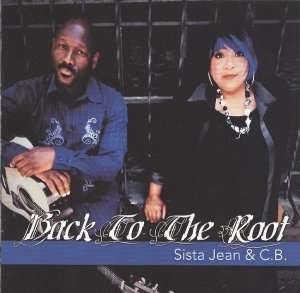 It is always a pleasure to put on an album and be tapping a foot, and snapping fingers throughout. Then the album is over and you are left satisfied and breathless. This album is like drinking spring water: Clean, crisp, fresh, invigorating.
So who are Sista Jean and C.B. anyway? They have left their mark on the Los Angeles music landscape as Sista Jean McClain and Carlyle Barriteau. Both McClain (also known as Pepper MaShay) and Barriteau toured with smooth jazz artist, Bobby Caldwell. McClain also recently provided stellar vocals on Hugh Laurie's latest album, Didn't It Rain.
There are several aspects of this album that combine to woo the listener, drawing them into its quiet, but powerful ambiance. There is nothing to interfere with the performance as it consists solely of vocals and guitars. Even the electric guitar here has an almost acoustic sound. The production is clean, and the mix is excellent, creating a clean, simple, sparkling clear sound.
At just over 46 minutes, there is a lot of great listening here! Standout tracks include "Roll Over Me," with its clean picked lines, heartfelt vocal, and spot on harmonica fills. "Don't Want What U Got" has beautifully delicate electric playing, with lines played out of hypnotic rhythm chords, and then back into the chords again. The vocal that McClain lays down over the top of this is flawless, and painfully alluring. "Wine Me, Dine Me" is a fun, bouncy, upbeat acoustic delight, that is full of sunshine, and will totally make you smile. Nice guitar solo too! "Love Is Calling" is the best vocal performance on the album, and one of the best we've heard all year. "Speak To Me Lord" is about calling on The Lord to get advice on a cheating lover. It is modern Gospel with a pulse, and some mighty fine pickin' from Barriteau. "U Best Know Henry" has some dynamite acoustic slide, and harmonica playing. The album closes with "You Can Dance To The Blues," acoustic soul that will have you snapping your fingers to the beat.
There is not a bad song on this album. The vocals are brilliant throughout, and are vaguely reminiscent of Mavis Staples. Barriteau's playing is clean, smooth, and delicate, always with a spark to it. Listeners can tell this gentleman really loves his work.
Pick this up yesterday. You will play it at least three times through on the first listen. Promise.