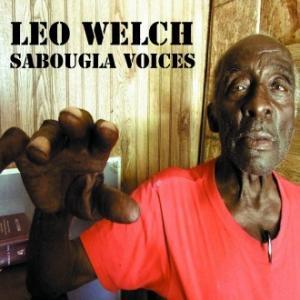 In today's frenetically paced world, uncovering a lost treasure is often met with great enthusiasm, excitement, and anticipation. Lost footage of Gene Kelly dancing. A Vincent van Gogh no one knew existed. An Arthur Crudup album lost in a vault for 40 years. Jimi Hendrix material coming to light after 40 years. Well, now we can also celebrate the "discovery" of a blues master stepping into the sunlight, and delivering the best gospel album since Elvis gave us "How Great Thou Art" in February, 1967. The paradox is that Leo Welch has been there all along, living in Sabougla, Mississippi, first playing blues, and then moving to gospel. Born in 1932, Welch grew up playing blues. As his style of blues became less popular, he began to play gospel because churches offered more opportunities to play. Consequently, he was overlooked because blues aficionados frequented juke joints. Most blues lovers would never think to find blues, or blues related music in a church.
After an off-the-cuff call by Welch to Big Legal Mess Records, things continued to fall into place, and he was able to record his debut album, Sabougla Voices. It is really difficult to accurately describe this stunning album, and faithfully convey the vibe, the atmosphere, and way it moves a listener. Welch has poured a lifetime of learning, living, loving, playing, and praying into this work, and it shows!
This album is stripped down, bare bones joyful gospel being played and sung from the heart. This is not your daddy's gospel though. Sabougla Voices is a shot of love to your heart, a cool cleansing breeze blowing through your soul, and an orgasm for your ears. The album opens with "Praise His Name," which is beautifully sparse, raw, and has a great bouncing beat. "You Can't Hurry God" is almost a gospel honky-tonk that has a juke joint vibe. "Take Care Of Me Lord" has a very early Magic Slim and The Teardrops sound to it. "Mother Loves Her Children" is really basic, slow, artfully delicate blues. "Somebody Touched Me" has a mid 1960's Rolling Stones blues flavor, and nice backing vocals. "A Long Journey" is delightfully slow, and begs to be pulled over you like a comforting blanket of blues. "His Holy Name" is gospel as a shuffle, and definitely has the church rocking! The album closes with "The Lord Will Make A Way," an acoustic performance that is slow and stark, but very moving.
If this is Welch's debut alum, we can't wait for the follow-up! This album is definitely a must-have.