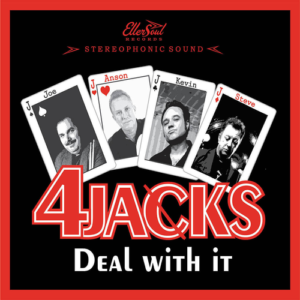 With an incredible mix of Chicago, Texas, jump blues and a jazz note thrown in, the 4Jacks CD Deal With It on EllerSoul Records is definitely a winning album to have.
Imagine sitting at the poker table, playing Texas Hold 'Em. You're hole cards are dealt, and they include a Jack. Nice start, a royalty card. Hmm. That Jack looks vaguely familiar, perhaps a little like Steve Mackey. Who you ask? Ah, a well known secret in Nashville, this bass player is. However, he's on this CD for a very good reason. Take Love's Like That and Have Ourselves a Time, which have a Latin tinge and jazz groove respectively. The bass is right where it should be, sometimes driving the bus, as seems the case in Have Ourselves a Time. In Your Turn to Cry, he has a pattern of beats per measure he changes up. What an excellent touch! Ghost notes! Then for a nice walking bass line, listen to Bobcat Woman.
 The flop card now. Jeez, another Jack. This is a betting hand. Steve teams up in the rhythm section with this second Jack, Big Joe Maher, who also does double duty on the vocals. Thunder and Lightning and She Ain't Worth a Dime are good examples of solid backbeat that Big Joe has mastered. Listen to the opener Deal With It. This has such a Booker T groove, and Big Joe even gets the wide open drum tone of the 1969 era. Throughout this CD you'll hear Big Joe's jazz capabilities. He continues to play jazz after having been in his high school jazz band. Have Ourselves a Time is a great example of his jazz chops. I'd point out his cymbal work, but I'll let you find that on your own. Besides, here comes the turn….
Oh my. The Fourth Street is another Jack! This one is Kevin McKendree. Is this the same Kevin McKendree who was Delbert McClinton's band leader? Yup, the same one. Listen to the wonderful piano on Love is Like That. He knows just where to throw in the dissonance against the guitar. McKendree shows he can play the barrel house, jump and Chicago piano blues in Texas Twister, She Aint't Worth a Dime, and Bad News Baby. Besides carrying the keyboard duties, Kevin recorded, mixed and produced this CD in his home based recording studio. Next time you get those questions about your fantasy band of all times, and it gets around to the keyboard player, make sure that up there with Chuck Leavell is Kevin McKendree.
The bets are in, and it's time for the river card. Freak out, another Jack! Anson Funderburgh, of Texas guitar fame. Just like the duo in the rhythm, Funderburgh is a pro at balancing off his melody partner on the keyboards, which every song on this CD shows off. You can hear a bit of the Buddy Guy guitar sharpness mixed with Albert Collins in the fun Percy Mayfield song, I Don't Want to be President.  Anson finesses other tones completely out of his guitar on the slow blues jazzy number Love's Like That. The Freddie and BB King roots of Funderburgh are prominent on this record, and Texas Twister is a good example, as is Ansonmypants.
4Jacks. I think it's time to bet. And you may as well go on in and buy this CD because it's a winner. With a Queen "sitting in the corner," you're on top.
The 4Jacks: Deal With It