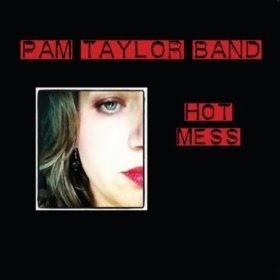 The up and coming Pam Taylor Band has been making a name for itself in the blues community with their lively shows featuring Taylor's hearty vocals, and great playing from the band. Well crafted tunes, copious guitar riffs, a rhythm section that kicks, and killer sax runs are the name of the game.
Hot Mess by The Pam Taylor Band, is well rounded in terms of offerings, and clocks in at 48 minutes. Personnel are Pam Taylor – vocals and guitar, Rusty Gilreath – bass, Kyle Phillips – guitar, LA Freeman – drums, Ryan Christ Winters – keys, and Mike Taylor on sax. Gerry Hagstedt plays drums on tracks 2 and 7. The production and mix on this album is well done. The sound quality is crystal clear, lending a wonderful ambiance to the album to the extent that it is almost an unsung band member.
Standout tracks are "Smile Again," with its funky blues, a righteous vocal, and a sweet guitar line from Kyle Phillips. The title track is feel-good, upbeat, rocking soul. "Whatcha Doing" is a slow blues with great horn accents, and a winning vocal from Taylor. "It's So Easy" is tounge-in-cheek rocking fun with 1940's swing.
Other cuts we enjoyed included "Next Time You Think of Cheating," which is slow, sexy, and sports well played guitar lines. The band offers up their version of "I'd Rather Go Blind," and we were moved by its smokey, sultry, and seductive delivery. Another delicious cut is "I Ain't The One," with its rhythm guitar driven funkin' blues lines – savory indeed!
Take this for a spin on your next driving get-away. Try something new and different!