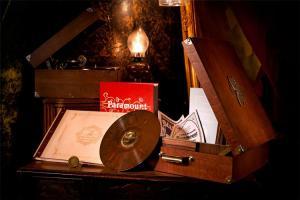 Third Man Records' ambitious and grand complete reissue of legendary prewar blues label Paramount Records' material is the center of a dispute over ownership of the ancient label's music.
Called "an epic, two-volume omnibus of art, words and music housed in a limited-edition, hand-sculpted cabinet-of-wonder, to be jointly released by Jack White's Third Man Records and John Fahey's Revenant Records," the box set runs $400 and comes with over 800 tracks, 6 special vinyl records, and many more Paramount intricacies.
New Orleans' Offbeat Magazine is reporting that the non-for-profit George H. Buck Jr Jazz Foundation is claiming ownership of the copyrights to almost all of the songs in the box set. Jazz musician Lars Edegran claims that Buck purchased the Paramount catalogue from John Steiner of Chicago in 1970, who in turn purchased the catalog from the original owners. The foundation claims to have documents proving the sale, though has yet to release them.
GHB Foundation, as it's more commonly known, specializes in keeping jazz and other American musical forms available to the public by issuing LPs, CDs, books and videos.
"The first thing," said entertainment attorney Brian Lukasavitz to the American Blues Scene, "GHB Jazz Foundation must prove is their ownership in the masters licenses… Regardless of whether or not the underlying songs are deemed to be in the Public Domain, the infringement claims are based on the copyrights held in the individual recordings that are being re-issued without a license."
"GHB can prove ownership a multiple of ways," continued Lukazavitz, "but it will basically come down to providing licensing agreements and contracts and/or copyright registrations with the U.S. Copyright Office."
"We informed the foundation that we would gladly come to an agreement with them if they could prove ownership of the recordings," wrote Dean Blackwood, co-founder of Revenant Records. "To date, they haven't produced anything that proves ownership. And although there is a more than 50-year history of labels large and small reissuing this material without their involvement, we remain open to discussions with them if they can prove ownership of the recordings."
Blackwood's observation that reissues of Paramount material have been taking place for decades rings true. Paramount re-issues have steadily found their way into the marketplace since the folk explosion of the 60s.
"It is true that a number of small labels have used Paramount material without our permission," said Edegran, "but there has been no infringement on the scale of the box set issued by Third Man/ Revenant Records—close to 800 tracks of Paramount recordings."
The second volume of Third Man's Paramount box set is set for release November, 2014.