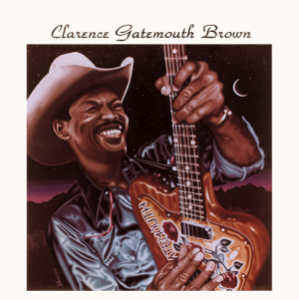 Here's the latest installment of our weekly series, The Language of the Blues, in which author/rocker Debra Devi explores the meaning of a word or phrase found in the blues.
To learn lots more about what your favorite blues songs really mean, grab a signed copy of Devi's award-winning book The Language of the Blues: From Alcorub to ZuZu (Foreword by Dr. John) at Bluescentric.com. "One of the wittiest, bawdiest, most fascinating dictionaries ever." (Reuters)
A "gate" is 1920s slang for a fellow, a guy. In the original version of "Gimme a Pigfoot and a Bottle of Beer", composed by Wesley Wilson, the line was "Send me, daddy," but when Bessie Smith recorded it in 1933, she sang:
Just at the break of day you can hear old Hannah say
"Gimme a pigfoot and a bottle of beer. Send me, gate"
Gate might be an abbreviation of gatemouthed, which means gator-faced, and Gatemouth came to mean a jazz musician or any hip male. Louis Armstrong reportedly claimed to have been the first to have used gatemouth this way.
The most famous gatemouth in the blues is Clarence "Gatemouth" Brown, the virtuoso multi-instrumentalist who played some of the most fiery and musically sophisticated blues around until his passing in 2005 at age 81. Born in Louisiana and raised in Texas, Gatemouth Brown freely mixed the blues with bluegrass, country, swing, funk, and zydeco. Brown's brothers were nicknamed Widemouth and Gapmouth, by the way.
Brown could play guitar, violin, harmonica, mandolin, viola, and even the drums. "In the forties, it was Gatemouth Brown and T. Bone Walker," Texas blues artist Jimmie Vaughan told me, adding: "They were great rivals. Gatemouth Brown was like the Jimi Hendrix of that time."
Songs:
"Gimme a Pigfoot and a Bottle of Beer" – Wesley "Sox" Wilson, recorded by Bessie Smith
"You Run Your Mouth & I'll Run My Business" – Louis Armstrong
Video:
Bessie Smith – "Gimme a Pigfoot and a Bottle of Beer"

Gatemouth Brown – Live on "Austin City Limits"