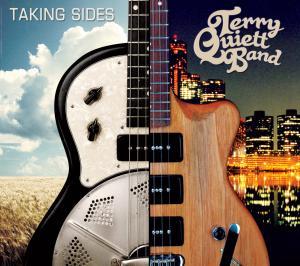 The crisp graze of a slide against acoustic and electric strings sounds so refreshing coming from a talented guitar player such as Terry Quiett, who leads this awesome trio that keeps sounding fantastic through the headphones. The Kansas native shows off his guitar skills without hesitation, throwing himself high up in the ranks with other talented guitarists, not the least bit afraid to give into a powerful solo.
A much more powerful album than the last, Taking Sides is a blast. Quiett provides his slick vocals over the pumping melody of "Come the Morning", and then turns it up with his signature slide licks, something you will hear all throughout the album. "Nothing at All" is more like a classic Terry Quiett song, with keyboards and duel vocals harmonizing into an awesome jam. "Two Hearts" is immediately a tasty Blues ballad, a very soulful song with guitar riffs as sweet as the lyrics. "Voodoo Queen" and "Weak-Minded Man" have a little southern crunchiness, with Quiett zoning in on his inner ZZ Top, and to top it all off, the bonus track "Let's Get it On" is as great as the original — if not better!
Crank up the joy and listen to all these musical gems. Quiett has brought to his fans a variety of soulful ballads and slide killing rock songs. It is very rare to hear a musician who can play with a slide and sound so fantastic. Any fan of the guitar or the blues is in for a long lasting treat.