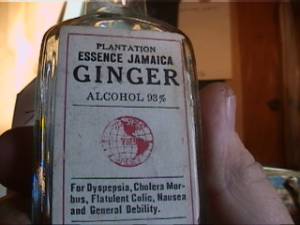 This is the latest installment of our weekly series, The Language of the Blues, in which author/rocker Debra Devi explores the meaning of a word or phrase found in the blues.
Grab a signed copy of Devi's award-winning blues glossary The Language of the Blues: From Alcorub to ZuZu (Foreword by Dr. John) at Bluescentric.com. Also available on Amazon Kindle.  
Jamaica Ginger, or JAKE, was a patent medicine with a very high alcohol content that was much sought after during Prohibition. When the Treasury Department became aware of this, the Department ordered anyone making Jamaica Ginger to change the formula.
What unscrupulous vendors did, instead, was doctor their Jake with an industrial plasticizer (a chemical that makes plastics soft and bendable) so that if government agents tested a bottle, they wouldn't be able to detect alcohol. This bright idea caused tens of thousands of customers to become paralyzed in their hands and feet. For many the damage was permanent.
Tommy Johnson described the effects of drinking doctored Jake in "Alcohol and Jake Blues:"
I drink so much of Jake, 'til it done give me the limber leg
If I don't quit drinking it every morning, sure gonna kill me dead
Songs:
"Alcohol and Jake Blues"- Tommy Johnson
"Jake Head Boogie"- Lightnin' Hopkins (Sam Hopkins)
Video:
Lightnin' Hopkins – "Jake Head Boogie"