Editor's note: Please welcome the newest addition to American Blues Scene online: "This Week in Blues Past"! You asked for a weekly summary of our daily blues history on Facebook and we listened! Come visit each Monday, where we will be listing the top ten events in blues history in chronological order.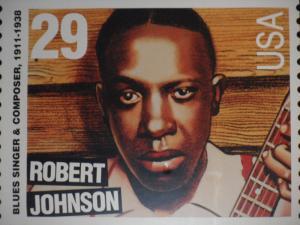 This Week in Blues Past has two of the biggest landmarks in blues: the death of Jimi Hendrix and the birth of BB King. In addition, there's a famous rediscovery or two, the passing of a patriarch of the Mississippi Sheiks, and even U.S. Postage Stamps commemorating blues fans' favorites, and much more! This is the top ten things that happened this week in the blues…
1. Snooky Pryor
September 15th, 1921: James Edward "Snooky" Pryor was born in Lambert, Mississippi. Pryor was influenced in Delta Blues harmonica by both of the Sonny Boy Williamsons and while serving in the Army, would blow bugle calls through a powerful public address system, which led him to experiment with playing harmonica that way. When he was discharged from the Army, he bought his own amplifier and began playing Blues on Maxwell Street in Chicago. His 1948 song, "Snooky and Moody's Boogie" (with guitarist Moody Jones) greatly influenced other harp players and Pryor contended that the signature riff of that song was directly copied into the first eight bars of Little Walter's 1952 hit, "Juke". Pryor retired from music in the late 1960s and was later re-discovered, at which time he resumed recording until his death at age 85 in Cape Girardeau, Missouri.
2. Crosscut Saw
September 15th, 1941: Tommy McClennan recorded the first version of "Cross Cut Saw Blues" for the Bluebird label at RCA Studios in Chicago. This was 25 years before Albert King recorded his version called, "Crosscut Saw", backed by Booker T & The MGs at Stax Records in Memphis, Tennessee which went on his famous Born Under a Bad Sign album. Since then the song has been covered by artists such as Sam Chatmon, Earl Hooker, Otis Rush, Stevie Ray Vaughan, Walter Horton and Homesick James.
3. B. B. King
September 16th, 1925: B. B. King was born Riley B. King in a cabin on a cotton plantation outside of Berclair, Mississippi but considers the nearby city of Indianola to be his home. Known as the "King of the Blues" and one of the "Three Kings" (along with Albert King and Freddie King), he developed a fluid, sophisticated guitar style, borrowing from artists such as Blind Lemon Jefferson and T-Bone Walker. In a career that has spanned, to date, almost 60 years, King has released 43 studio albums, and played 250-300 dates a year into his 70s. He currently still plays over 100 dates per year. King has won 16 Grammy Awards, was inducted into the Blues Hall of Fame in the first class of inductees in 1980 and was inducted into the Rock and Roll Hall of Fame in 1987. Known for his Gibson ES-355 guitar, "Lucille", King is widely regarded as one of the most influential Blues guitarists of all time. He owns the chain of BB King's Blues Clubs in eight cities and has made television appearances on such shows as The Cosby Show, The Young and the Restless, General Hospital, The Fresh Prince of Bel-Air, Sesame Street, Married… with Children, Sanford and Son, and Touched by an Angel. He is also currently listed as #6 on the Rolling Stone Magazine list of the 100 Greatest Guitarists of All Time.
4. Mamie Smith
September 16th, 1946: The first African-American to make vocal Blues recordings, Mamie Smith died in Staten Island, New York at the age of 63. Beginning as a vaudeville singer, dancer and pianist, on August 10th, 1920, Smith recorded a set of songs for Okeh Records that included "Crazy Blues", which was the first recording of vocal blues by an African-American artist, and became a best seller, selling a million copies in less than a year. Later in her career, Smith appeared in several films including Jail House Blues, Paradise in Harlem, Stolen Paradise and Because I Love You.
5. Jazz & Blues Commemorative Stamps
September 17th, 1994: The US Postal Service issued a series of commemorative stamps featuring prominent Jazz and Blues artists, Mildred Bailey, Billie Holiday, Robert Johnson, Ma Rainey, Jimmy Rushing, Bessie Smith, Muddy Waters and Howlin' Wolf. The biggest uproar from Blues fans was over the picture used of Robert Johnson for his commemorative stamp. The famous photo booth picture of Johnson, with a cigarette dangling between his lips and a guitar in his hand, was altered. Click here for the full story.
6. Jimi Hendrix
September 18th, 1970: James Marshall "Jimi" Hendrix, arguably the greatest electric guitar player of all time, died of asphyxia, while intoxicated on barbiturates at the age of 27 in Kensington, London, England. He was born Johnny Allen Hendrix in Seattle, Washington on November 27th, 1942 and began playing guitar at the age of 15. After a stint in the US Army, Hendrix began playing gigs on the Chitlin' Circuit with The Isley Brothers and Little Richard. He played the Monterey Pop Festival in 1967 and headlined the Woodstock Music Festival in 1969. Hendrix was instrumental in developing the technique of guitar amplifier feedback, helped to popularize the use of a wah-wah pedal in mainstream rock, and was the first artist to use stereophonic phasing effects in music recordings. He was, himself, influenced by artists such as Chuck Berry, Muddy Waters, Elmore James, B. B. King, Howlin' Wolf and Bob Dylan and his influence has been acknowledged by Eric Clapton, Stevie Ray Vaughan, Kirk Hammett, Joe Satriani and Prince, to name but a few. Listed as #1 on the Rolling Stone Magazine list of 100 Greatest Guitarists of All Time, Hendrix released three albums with The Jimi Hendrix Experience and one with Band of Gypsies in his lifetime. There have been 12 albums of his music released posthumously, the latest being 2013's People, Hell and Angels.
7. Blind Willie McTell
September 19th, 1933: Blind Willie McTell recorded 12 songs for the Vocalian label in New York under the name Blind Willie. Two of the sides, "Lord Have Mercy, If You Please" and "Don't You See How This World Made a Change" were recorded with his partner, Curley Weaver. McTell was also known to perform and record under the names, Blind Sammie, Georgia Bill, Hot Shot Willie, Barrelhouse Sammy, Pig & Whistle Red, Blind Doogie, Red Hot Willie Glaze, Red Hot Willie and Eddie McTier.
8. Curley Weaver
September 20th, 1962: Curley James Weaver, AKA Slim Gordon, died of uremia in Almon, Georgia at the age of 56. A Covington, Georgia native, Weaver grew up with childhood friends, "Barbecue Bob" Hicks and Charlie Hicks and started his first band with them and harmonica player Eddie Mapp in the early 1920s. Weaver is best known for his duets with Blind Willie McTell, Barbecue Bob and Buddy Moss. His last recordings were in 1949 and he lost his eyesight in the 1950s while working on the railroad. Weaver's daughter, Cora Mae Bryant, carried on her father's tradition as a Blues singer until her death in 2008.
9. Mississippi Fred McDowell
September 21st, 1959: Mississippi Fred McDowell, a native of Tennessee who played Hill Country slide guitar with a pocket knife, rib bone and glass slide, was discovered and recorded by Alan Lomax and Shirley Collins. McDowell's records became very popular and he went on to record and play with artists such as R. L. Burnside, Bonnie Raitt, Big Mama Thornton, Buddy Guy and John Lee Hooker. He also coached Raitt on slide guitar technique. His last album, Live in New York was recorded at The Gaslight Cafe in Greenwich Village in 1971. McDowell died of cancer in 1972 and was posthumously inducted in the Blues Hall of Fame in 1991.
10. Bo Carter
September 21st, 1964: Armenter "Bo Carter" Chatmon died of a cerebral hemorrhage at Shelby County Hospital, Memphis, Tennessee at the age of 71. Carter, along with his brothers Lonnie and Sam Chatmon and Walter Vinson made up The Mississippi Sheiks and Carter also managed the group. Carter became well known for his more bawdy songs including "Let Me Roll Your Lemon", "Your Biscuits Are Big Enough for Me", "Please Warm My Wiener" and "My Pencil Won't Write No More". He went partially blind in the 1930s but continued to perform occasionally until moving to Memphis in the 1940s and working outside the music industry. His most famous song, "Corrine, Corrina", which he wrote and recorded in 1928 went on to become a big hit for Big Joe Turner in 1956. It was also recorded by artists such as Charlie Patton, "Half Pint" Jaxon, Jerry Lee Lewis, Bill Haley and His Comets, Rod Stewart, Boz Scaggs and Eric Clapton.