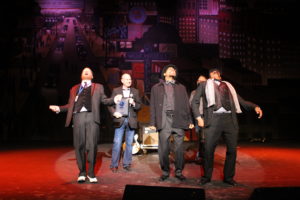 (MEMPHIS, TN) — Jay Sieleman, The Blues Foundation's President and Chief Executive Officer, announced today he will step down from leading The Blues Foundation organization in September of 2015.
Jay joined the Foundation in March 2003 and will leave as the longest serving executive in the Foundation's 35-year-history. Under his leadership, the Foundation has enjoyed substantial programmatic and economic growth. The international status of The Blues Foundation has also increased and now has members in more than fifty countries.
The organization has experienced an impressive financial resurgence, growing from a net worth of less than $200,000 to over $4 million, annual revenues of $1 million dollars and positive net income each year since 2004. Individual memberships have tripled (4000) and affiliated blues societies have more than doubled (200).
During his tenure, Foundation programming has similarly progressed. It annually stages its critically-acclaimed Blues Music Awards and the International Blues Challenge, latter of which has grown from three to five days and from 70 acts to 250. The HART Fund now disburses as much as $50,000 annually to Blues musicians and their families for medical, dental and funeral expenses. Generation Blues has awarded financial scholarships to 70 young performers in the past five years to study their instruments of choice at reputable Blues camps. Each of these has contributed to a strong and growing reputation both in the blues community and among the general public. In 2011, The Blues Foundation was the recipient of the prestigious Tennessee Governor's Arts Award.
One of The Blues Foundation's most impressive achievements is the new Blues Hall of Fame set to open May 8, 2015. The design, construction and opening of the Blues Hall of Fame in Memphis (a long-held dream of blues musicians and fans) will be the culmination of Jay's efforts to bring sustainable, well-deserved attention and recognition to the Blues as an art form and to Blues musicians. Through the Raise the Roof! capital campaign he led, The Blues Foundation secured pledges and donations of more than $2.8 million, two-thirds of which came from individual blues fans around the world, for construction of the Blues Hall of Fame.
Jay is a graduate of the University of Iowa College of Law and practiced law for more than 20 years, including some 13 years with the Panama Canal Commission, both before and after the 1999 Panama Canal transfer. He served as a Legal Advisor to the Solomon Islands as a Peace Corps Volunteer (1983-85).
The Board of Directors has formed a committee to begin the process to find a new chief executive.