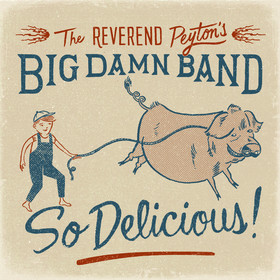 (BROWN COUNTY, IN) — The Reverend Peyton's Big Damn Band bridges genres and eras with an intensity and effortlessness that few contemporary artists possess. The band's new album So Delicious, out February 17th, elevates the trio's work to a new level. Produced by Rev. Peyton, So Delicious offers the band's most diverse collection of songs buoyed by the Reverend's supercharged six-string virtuosity — a unique style of fingerpicking inspired by his Delta blues heroes –but taken to new, original heights.
The fifth full-length original album by the group — which includes Breezy Peyton on washboard and supporting vocals and Ben Bussell on drums and supporting vocals — is their debut on Yazoo Records, a label known for the historic reissues of blues and other old time American music that are the bedrock inspiration for the Rev.'s sound and approach.
"Yazoo was my favorite record label growing up," he explains. "For fans of old country blues and all manner of early American music, they are the quintessential label. And for me, it's like being on the same label as Charley Patton and 'Mississippi' John Hurt. To think that Yazoo believes we are authentic enough to stand with the other people in their catalog means a lot."
The Rev. Peyton's Big Damn Band has always been strong on authenticity, playing music that blends blues, ragtime, folk, country and other traditional styles with the sleek modern energy of do-it-yourself, homespun, punk fueled rock. And performing tunes plucked from their lives, their community or from the canonical songbook that fed the Rev. Peyton's formative creative identity. It's a mix that's allowed the band to win fans from all corners of the Americana and rock worlds, and bring a new generation to blues and other forms of American roots music.
So Delicious is a perfect Rev. Peyton's Big Damn Band album, with songs that speak from the heart and capture the trio — whose sound has been honed over 250 annual tour dates during the last eight years — playing at their peak. The charging, anthemic "Raise a Little Hell," also the set's first video, lays out the band's live modus operandi, thriving on Bussell's and Breezy's chugging beat and the Rev.'s resonator guitar riffs and mantra-like singing. The song was inspired by a show at a folk festival, where one of the promoters — struck by the Big Damn Band's raucous, juke joint power — told the Rev., "Y'all sure raise a lot of hell."
"I said, 'Naw we don't,' " the Rev. recalls. "And then I thought, 'Well, maybe we do raise a little hell.'"
The sweet, joyful "Pot Roast & Kisses," which the band has also committed to video, was written for Breezy. The Rev. was developing the finger-busting main riff after enjoying one of her pot roast dinners when the lyrics naturally fell into place. "Some people don't believe that we really live the way we sing about in our songs," he explains," but it's true. Breezy and me are together and really love each other. We try to keep things simple, like people have in Brown County, Indiana for a long time. And we really do live in the woods and forage for some of our food — like I sing about in 'Pickin' Paw Paws' on this album."
Some listeners also have a hard time believing all of the Rev.'s extraordinary guitar performances are recorded live with no overdubs — until they see the Big Damn Band in concert. "Pot Roast & Kisses" is a radiant example of his nimble style, weaving two melodies, thumb plucked bass lines and bright decorative filigrees into a graceful, upbeat blend. The rocking electric juggernaut "Let's Jump a Train" is another. The song's lyrics explore the notion of courageously pursuing adventure —a frequent theme in the lives and the songs of the Rev. Peyton's Big Damn Band — while the Rev. bangs out a machine-gun rhythm with his thumb, ladles in generously sinuous licks and tosses off seemingly effortless fills and accents, then solos and plays the beat simultaneously.
"I've been obsessed with the idea of taking fingerstyle guitar to a place it's never been before," the Rev. says. And he's gotten there by blending the foundational playing of great country bluesmen like Charley Patton and John Hurt with the early-rock vigor of Chuck Berry and the licks played by old timey fiddle players who recorded in the 1920s and '30s. In fact, that school of fiddle — enshrined in Yazoo's catalog — is often reflected in the Rev.'s slide playing, which adds to the uniqueness of his virtuosity.
"When people hear So Delicious and see us play live, I think they understand that what we're singing about is real to us," the Rev. says. "We believe in the stories we're telling and in the way we play. And when we're on stage or off, there's nothing fake about us. We are what we do, and I'm proud of that."