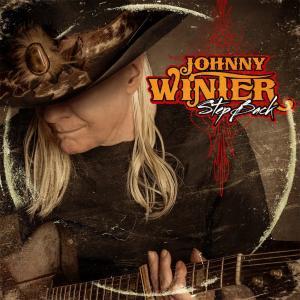 Johnny Winter's much-anticipated final album, Step Back, spans a variety of different blues genres is a retrospective compilation of blues songs primarily from the 50s-60s. There are no new songs, but a creative blending of original arrangements with appearances by well-known blues artists like Eric Clapton, Billy Gibbons, Joe Perry, Ben Harper, Joe Bonamassa, and more. These artists would unknowingly pay homage to Johnny Winter in what would be his last album.
The album is packed with performances all uniquely and masterfully fabricated with producer and longtime bandmate Paul Nelson at the helm. Nelson meticulously complements each song with the artist selected. Numerous blues genres are conveyed, for example, "Where Can You Be" is a feat with Johnny Winter and Billy Gibbons and represents a saucy Texas style blues song evocative of ZZ Top. Step Back is not only a look at the music that ultimately influenced Winter but also a re-mastered snap shot of the different blues genres from the 50s-60s.
Out of the gate running is Winter's rendition of "Unchain My Heart." The song bursts through the earbuds with a punchy horn section (Blues Brothers Horns) and the sweet vocals of backup singers. Winter's soulful, bluesy, smoky voice combined with intense and aggressive guitar licks tops off the catchy tune.
Howlin' Wolf's "Killing Floor" features Johnny Winter and bandmate Paul Nelson sharing riffs as the rest of the group plays a tight upbeat twelve-bar blues bass rhythms skillfully driven by the other longtime bandmates Tommy Curiale on drums and Scott Spray on bass. "Killing Floor," along with the next song on the album, "Who Do You Love," demonstrates the chemistry between the band members that was perfected through years of touring and playing together.
"Sweet Sixteen" is the longest song on the album and features the unmistakable guitar of Joe Bonamassa underlined behind Winter's vocals. The guitar centric song breaks out into a guitar solo by which Winter is followed by a Bonamassa solo that is guaranteed to raise the hair on your back.
How do you top "Sweet Sixteen?" With Winter's solo rendition of Son House's "Death Letter." The distinctive hollow guitar sound fused with Winter's soulful and passionate voice takes the listeners to the Mississippi Delta. The song is so true to the traditional Delta blues sound that even Son House would be stunned. Afterwards, listeners are left at the crossroads wondering if Johnny Winter "sold his soul to play like that."
Guaranteed to get you stomping your feet is the rendition of Clarence "Gatemouth" Brown's 1954 instrumental "Okie Dokie Stomp," with solos from Johnny Winter with Brian Setzer of Stray Cats. The strong rhythm rockabilly style song showcases yet another example of our rich blues heritage.
Fittingly, the last recording is reserved for the rendition of Fats Domino's "Blue Monday." A feat with Dr. John features John's signature piano blend of New Orleans R&B and funky horn arrangements of the Blues Brothers Horns. This upbeat song is a fitting way to end this Step Back journey. The final lyrics of "Blue Morning" are hauntingly fitting will leave you reflecting on the blues man we hold with such high esteem and honor:
"Sunday mornin' my head is bad
But it's worth it for the time that I had
But I've got to get my rest
'Cause Monday is a mess."