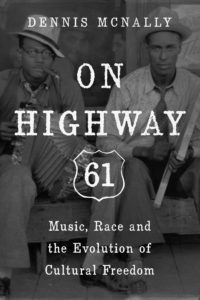 Dennis McNally's ah-ha moment in deciding to write On Highway 61 – Music, Race and the Evolution of Cultural Freedom came after reading Bob Dylan's comments in Chronicles about the Mississippi River and the thread it weaves through the history of American music. The epic scope of this book covers nearly all forms of American music of the last 150 years and defends the view that African American contributions to this vast catalog of music define our American musical heritage.
McNally's previous works include a definitive biography of Jack Kerouac and A Long Strange Trip, a Grateful Dead biography written from the perspective of having been their publicist and historian for 25 years. In this new tome he says. "Interestingly, all these (American musical) forms emerged on or near the Mississippi River, and their sequence follows the river's path. The first and most European forms came first and farthest up the river. The farther down the river, the more potent was the music, from the blues – formulated in Memphis but likely created in Mississippi – to jazz, which would be by far the most complex and far-reaching of these developments, and thus logically came from the most complex Southern place, New Orleans… There in the stable, dependable center of America was a pathway of phenomenal energy, a dynamic river that grew only stronger as it approached the gulf. From St. Louis south, music would manifest itself alongside it."
That Mississippi River thread gets eclipsed in the edited version of a book that eventually was pared down from more than 850 pages to half that size and includes five chapters on the influence African American music had on Dylan whom he calls the greatest American lyricist of the 20th century.
The original manuscript included a chapter on Thoreau's views of freedom and the role it plays in the American psyche which he cut from 150 pages to five. The published version is a more focused presentation of the thesis that African American contributions are the basis for virtually all the great American musical genres including blues, jazz, swing, minstrel, ragtime and more.
"What would American music be like if there had never been any black people in America," McNally is sometimes asked.  In a phone interview he says, "My response – my joking line is that both albums would be very boring."
Why has this black influence prevailed throughout American history? McNally contends, "There was no mind/body disconnect in African thought; religion was experienced in both realms. Dancing was worship."
Without doing a single original interview, McNally teaches the reader more about the musical icons of the last century and a half of American music than most of the autobiographies and/or biographies of all the artists he addresses from Louis Armstrong, Duke Ellington and Coltrane to Robert Johnson, Muddy Waters and Miles Davis. He spends almost one fourth of the book on Dylan whom he sees as the white minstrel who integrated all the music that had come before.
"There's a three-paragraph passage in Chronicles," said McNally "in which he (Dylan) talks about Highway 61 and about how it connects in with the south and listening to the radio, and he got all that by listening to No Name Jive, the radio show from Gatemouth Page from Little Rock late at night when you can get a radio station 1000 miles away (Dylan lived in Minnesota) and listening to this black music. As soon as I read that, I went, I don't need to talk to Dylan. He can't possible improve on this. This is his memoir. This is what he gave great deep thought to, and there are a dozen other places when he talks about hearing Robert Johnson for the first time, the story of which was just a perfect story of things coming together.
"Robert Johnson King of the Delta Blues comes out just about the time Dylan is signing with John Hammond, like a month later. And Dylan tells the story that Hammond gave him after he signed which of course we know is exactly what producers do is give an advance copy of something or other, and he got an early white jacket unfinished copy of King of The Delta Blues which makes total sense. That was coming out within the next month after he signed this contract, late '61, and he'd always been a serious scholar.
"He was 19 but a very studious student of American music, and he said in his memoir – and I completely believe it given the circumstances – that he had never heard of Robert Johnson, and unless you're a collector of obscure 78s and unless you had read Sam Charter's Country Blues or a couple of other books that were extremely rare at that point, why would you have known him? We have to remind people that there were no CD collections. There was no internet. All this stuff to which we have easy and convenient access to did not exist."
(Note: Remember, Robert Johnson died in1938 and this was 23 year later when Columbia Records A&R man John Hammond, father of blues guitarist John Hammond, released an album on the largest record label at the time by Johnson who to this point had been known to only a very small audience of black people on the chitlin circuit.)
McNally in the new book presents an exhaustively researched thesis that counterbalances a pervasive white prejudice that in some circles still sustains a century and a half after the abolition of slavery that African Americans are intellectually inferior. Not only are they at least the equal to whites in intelligence contends McNally, but he supports his contention again and again, point by point, that the African holistic view of existence encompasses a sense of freedom which manifests as improvisation and an emotive release that is focused on music as a catharsis for the horrific treatment blacks have received at the hands of a white-dominated culture.
McNally documents that even where cultured white society belittled African Americans, they were seduced by that sense of freedom and release in the music and found ways to introduce it into the culture even if at first it was through the literature of Thoreau and Mark Twain and then in black-faced minstrel shows and finally in jazz and blues, R&B and beginning in 1961 the work of Dylan.
The book stops short at 1965, thereby eliminating any discussion of the Grateful Dead, a band that McNally worked for through the height of their career that played an enormous role in bringing black-influenced improvisation into pop culture. What McNally's work does do is confirm in a scholarly way a history of American music that may surprise some revisionist music fans who think that hedonistic, primal musical release is the relatively new invention of rock and roll or even its antecedent, the blues.
As a writer who has spent almost a half century documenting the blues, I am incredibly impressed with McNally's ability to take the reader into a world that has been  largely ignored by music journalists who didn't begin writing seriously about the subject until the 1960s, most notably in Rolling Stone. Even today, scholars are back peddling like crazy to document a history that has been dismissed as footnotes to centuries-old classical and folk traditions. The significance of McNally's work cannot be dismissed lightly. He is a credible scholar with decades in the trenches with the Grateful Dead, arguably the most important influence on mass pop culture since the 1960s.
Read his comments from the book in light of his credentials and be prepared to rethink everything you think you know about how important African Americans are to our pop culture.  "It was easy for critics to ridicule naïve young white people listening to – the older and more decrepit, the better – bluesmen who were far removed from when the blues were a fresh and creative thing. The mockery implied that one should appreciate an art only if it's indigenous to one's own time and culture, which is preposterous. The art of a bygone day is no less valid for being an orphan."