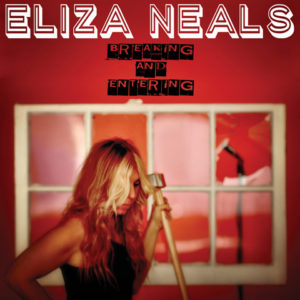 Editor's Note: This featured artist interview is brought to you through our partnership with ReverbNation.
Over the years, Detroit has consistently given the world great music. Della Reese, Doctor Ross, John Lee Hooker, Thomas Whitfield, Bill Haley, The Lords (with a young Ted Nugent), Mitch Ryder & the Detroit Wheels, MC5, Iggy and the Stooges, and Grand Funk Railroad are just some of the talented musicians that either hailed from Detroit, or contributed greatly to its music scene. Then too, there's the expansive roster of amazing artists who recorded for Motown.
There has been a lot of talk the last few years concerning the "decline" of Detroit. Well, Detroit is on the rebound. Take for example the rockin' blues of Detroit native Eliza Neals. Originally trained as an opera singer, she has been tearing it up in local venues, and around the country as well. She sings with the power of Beth Hart, the emotion of Janis Joplin, yet the voice is still her own. Her music is powerful as well. Neals blends rock and blues seamlessly, throwing in a pinch of soul for good measure.
American Blues Scene recently spoke with Neals about her musical journey, her killer new album, Breaking and Entering, and why Detroit is still very, very cool.
Barry Kerzner for American Blues Scene: You're from Detroit; born and raised?
Eliza – I was born in Detroit, and that's where I grew up. I was born in Detroit, but where we lived was a mile out of the break from South Field in Detroit. It's like a suburb of Detroit.
ABS – Tell us a little about your musical background growing up.
My dad used to play the guitar, and I have two sisters, and they'd all sing together. My older sister would play the piano, and sing, like Cat Stevens and Neil Young. I was like 'Wow, that's so cool.' We'd just start harmonizing, the three of us. We sang; it was just something we did. I started doing talents shows, and choirs. I loved music. In the talent shows I was playing and singing my own songs. Later, I went to college at Wayne State University, and studied music there. I studied opera. I toured Europe in a choir.
ABS – You were studying to be an opera singer?
Actually, I was supposed to go to Vienna and be an opera singer. I was supposed to study there, from Wayne State, like a scholarship thing. They told me I could really do something big in opera, but, my heart is in the blues, and the rock and roll, rock-blues music. Maybe someday though; who knows?
ABS – So, all that formal study proved to be useful with your own music.
I did learn a lot about vocal ranging, harmony; I learned how to conduct. I was also learning classical piano, kind of like a minor to my vocal studies. I was learning as much as I could. Plus, I took piano lessons my whole life. My whole family pushed the arts; piano, dance, singing, and just being well rounded.
ABS – When did you decide that you wanted to pursue blues instead of opera?
My opera teacher told me I really shouldn't be singing anything but opera if I'm gonna be an opera singer, because you have to be completely 'pure,' and that it hurts your voice. I learned the technique through opera, to be able to sustain my rock voice. I was singing five, six seven nights a week, anywhere I could to learn. I'd sit in at jazz places, and rock clubs all throughout Detroit. I was in awe of these people. I was writing my own songs from everything I'd learned.

I decided I wanted to do my own music, like my own brand of rock and roll blues. I wanted to do my own style, so I just started sitting in everywhere at night. I used to watch Earl Klugh play in Detroit. I'd sit in! They let me sit in. I finished my degree, but thank god for my opera training. It's definitely hard to sing rock seven nights a week.
ABS – Of course, your degree is in music?
My degree is a BA in Music, with an emphasis in opera. I had to get a degree or my dad would have thrown us out. I worked my way through, and if I would get a degree, my father would help me. He wanted all of us to have degrees.

The thing about my dad was that he liked all that. He wanted us to be well rounded. He wanted us to be a doctor, or a lawyer of course. He wanted us to know our music, but if you were gonna do music, it had to be classical. So, I tried to do my own stuff, and I hope you can make a living at it. He passed away a few years ago, but I think he'd be really proud to know that finally the stuff is charting, and doing really well. He was always about getting an education, and supporting yourself.
ABS – Who are some of your influences?
Barrett Strong is one of my mentors. I learned a lot of cool stuff from him. He gave me some great advice. I love 70's soul; Marvin Gaye, Jimi Hendrix, and Aretha Franklin. I would just listen, and study their voices. I would take their music and play it my way, and make it my own. I loved Carole King, James Taylor, CSN, Neil Young, Koko Taylor, and B.B. King.

Then I learned the blues and started making those songs, mashed together with the rock, and the Southern rock. All together. That's when it really stoked me. I mean, Jackson Brown; the way he would play the piano was just so soulful, yet, so bluesy. All those people really stoked me. Of course there was Led Zeppelin too, and as far as female singers, Janis Joplin was way up there for me. I love Bonnie Raitt, and I listen to her constantly. I love funk, and Motown. George Clinton! My drummer that I use in Detroit, Gabe Gonzalez, was actually on tour with him.
ABS – Let's talk a little about your new album, Breaking and Entering. You used a lot of your friends in making this album.
I said 'If we're doing anything, it's going to sound heavy on the bottom, like Led Zeppelin.' I had some wonderful people work on this record with me. Just friends of mine, scattered around the United States. They were all like, 'Come on. Let's do it!' They hooked me up. They're engineers, and they're players. I started the basics on piano at my house, and then I would take them to certain studios and go with different keyboards. I put them down as skeletons, like 'click tracks,' you know? Then I would bring in everybody.
ABS – Well it sounds incredible. The music is is bluesy, with a hard, rocking edge, and the mix is great as well. It has texture, and depth. It doesn't just beat you over the head.
My thing is 'Make 3D sound.' Get inside the music. When I wrote the song "You," I was writing that on the piano here, and a lot of the other songs, and I have a loft, which is really cool for reverb. It's like being in a church almost. So I was playing that song, and I'm putting the song together in my head. I'm thinking about the drums, the harmonies, the Jimi Hendrix style guitar, and my man said, 'Isn't that kind of slow for a blues song?' I said, 'No. You don't hear what's in my head.' I like making music that's fun, that I don't get bored hearing.
ABS – Well, the album is full of great songs. "Spinning" has an almost Tony Iommi vibe to it, and it was written with your friend, Howard Glazer.
I asked Howard (Glazer) if he had guitar that sounded grungy. Some of these songs are written from guitar tracks. "Detroit Drive" is written like that. "Spinning," and "Goo Goo Glass" is another one. I had the melody, and told him what I wanted, and he came up with that. He came up with the guitar track.

We were gonna do it, and put drums and everything on it. I said 'No no no. I wanna do it with just voice and guitar. That's it. I don't want anything else on it.' This album was done the way I wanted it.
ABS -Are you out touring to support the album?
Since its release, it got picked up by B.B. King Blues on Sirius XM. Then we're charting now on Roots Blues Report. I have 2 songs in the top 16; 'Detroit Drive,' and 'Jekyll and a Hound.' We want to go worldwide with this on tour. I basically book my own gigs right now. We're trying to get a booking agency to help us, so we can go to Europe, and support all the airplay we're getting. We're on over 300 radio stations. I believe we're going to be on tour; I'm hoping spring and summer, in Europe. We did a release in Miami. We have a following there. Detroit we did. I'll be playing March 27th at the Cutting Room in New York City.
ABS – Much of the national news coverage of Detroit the past couple of years has looked at the problems the city has experienced with financial woes. This has led to many difficulties including lack of public services, lack of employment opportunities, and a mass exodus that left large swaths of the city uninhibited, and looking like a war zone. The word on the street now, is that Detroit is up and coming again. So, what is it like to live, and perform music in Detroit now?
There's a resurgence right now where there is all kinds of young kids coming there and buying buildings, buying lofts, and turning them into, like, fashion type quarters. they're making farms. I swear. If you come visit, I'll show you, and you'll be like, 'What?' You will never believe it. Kid Rock just bought a house right down there. There's condos selling on the waterfront. You can get a condo down there for $20,000, and be on the waterfront, and maybe the services aren't all there yet, but, they're coming. It's not like you see on TV. My mom is in her seventies, and she goes to the casino by herself. It's not what you think. It really is cool. There's culture, there's people, there's art. I used to go down there by myself, and sit in all the places in the bad areas, they say are bad, and it's nothing. It's like any other city.

I play this place called Tangent Gallery, and other places, and the buildings are beautiful. It's a little weird getting there, but once you're there, it's like , 'Oh, there's people here.' There's river walks, and 'Who's gonna be down here?' Like 15,000 people, all from the suburbs.
ABS – Well that's great! It's good to hear that things are improving, and the city is coming back.
It's about people coming together, and making it work. And that's what they've got. When I say that, I mean, it's fine. People go down there, and it's fine. Everyone comes together in Detroit because they have to, to make it work. They always say in the paper that the people that live down there don't want that, but, they do. They want to live together, to have their city be nice again, and they are all working together. That's what I want to say.
ABS – Well thanks for spending time with us today, and sharing your story.
Thank you. I really enjoyed it.