Today would be Muddy Waters' 102nd birthday, so our ABS staff (especially JD Nash!) compiled a list of interesting 'hidden gem' facts about the life and legacy of Muddy Waters and those who, inspired by his accomplishments, used his innovative music to help change the world! 
1. Muddy was a major influence on Angus Young of AC/DC.
AC/DC's monster hit "You Shook Me All Night Long" came from the lyrics of Muddy's "You Shook Me", which was written by Willie Dixon. (Fun fact: Led Zeppelin also released a cover of "You Shook Me" as track three on their debut album.)
"Because we grew up in Australia," said Young in an interview with Rolling Stone, "to find information about a lot of blues guys I used to go to the library and find the jazz magazines. They didn't even sell them at the time in news agents and stuff. So I'd go into the library and read all about where these people were playing, like Muddy Waters and Elmore James."
2. In 1949, Muddy, Little Walter and Jimmy Rogers had a show on King Biscuit
Muddy, Walter and Jimmy Rodgers had a daily show at 6 am on KFFA in Helena, Arkansas that they used to advertise their local gigs. KFFA is famous for Sonny Boy Williamson's King Biscuit Time, the longest-running daily American radio broadcast in history.
Most of the older delta bluesmen like B.B. King and James Cotton discussed King Biscuit Time being hugely influential on their musical development. Today, the King Biscuit Blues Festival brings thousands of visitors to Helena to experience the blues in a huge, historic festival — across the street from the King Biscuit Time studio!
3. Muddy appeared on "The Last Waltz," Scorsese's famed rocumentary/concert of The Band's final farewell
Muddy, along with bandmates Pinetop Perkins and Bob Margolin, played "Mannish Boy", but by what Scorsese called "Dumb Luck", all but one camera was rolling for the song's entirety, and the moment almost wasn't recorded at all. The producers then wanted to cut his part, however, since they were running long. The Band's, Levon Helm, who was also the brainchild behind the Muddy Waters' Woodstock Album, (fun fact: And who also listened to KFFA, having been born and raised around Helena) protested until Scorsese left it in.
"I seen Muddy Waters playing The Last Waltz," Dr John told ABS in 2013 about that night. "He played 'Nine Below Zero' the night before they filmed it too. I saw every so-called badass guitar player with his jaw droopin' and saggin'… I wish they'd filmed that… And that's the kind of things I been blessed to see."
4. That wasn't the only time Muddy's songs have been featured in big movies!
Scorsese also used Muddy's songs in scores to some of his biggest movies, including Goodfellas, Casino, The Color of Money, and Shine A Light, the acclaimed Rolling Stones Rock Concert DVD, where the Stones featured Muddy's "Champaigne and Reefer" song with Buddy Guy. (Fun fact: The movie shows Richards giving Buddy his guitar out of respect at the end of the song. That guitar is hanging on the wall at Buddy Guy's Legend's in Chicago). Mud's music was also used in a number of other films, including Adventures in Babysitting and Risky Business, and that's not the only time Mud was featured in a movie…
5. It wasn't just Muddy Waters songs that were featured in movies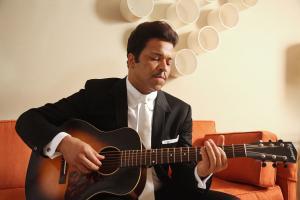 Jeffrey Wright played a lead role as the Chicago Blues master in 2008's Cadillac Records, next to Adrian Brody, who portrayed Leonard Chess. The movie was about the pair's struggles building a label from Muddy's music, and the rise of Chess Records.
Chess was the spunky independent record label that churned out the world's foremost blues content and later, ushered in Rock n Roll with luminaries such as Bo Diddley and Chuck Berry. Speaking of Chuck Berry…
6. Muddy helped Chuck Berry get his first recording contract
Born in Saint Louis, Berry traveled to Chicago and met with Muddy Waters, who sent him to audition for Chess. Berry came with a country western tune, "Ida Red", and Chess was sold — except they renamed the song "Maybellene".
Legend has it that Chess saw a Maybelline brand mascera box in the corner of the studio and, with few better options, suggested they name the girl in the song after it, (changing the spelling slightly from the beauty company to avoid a lawsuit). The song was a hit, and Berry went on to almost singlehandedly define Rock n Roll, many of the biggest hits coming from the Chess studio.
7. Eric Clapton was best man at Muddy's wedding to Marva Jean Brooks in 1979
"Muddy was there at a time when, really, the music was getting to me. I was really trying to grasp it and make something out of it," Clapton told NPR, even writing in his book that Muddy was "the father figure I never really had." In the last decade of Muddy's life, he and Clapton had become very close. After he met 19 year old Marva, (about seven years after his wife Geneva passed), Mud asked Eric to be his best man.
8. They called him Mud (not Muddy)
In the blues circle on the South Side of Chicago, Waters was a god. But back then, people just referred to him as "The Mud".  Buddy Guy talks about the first time he met Muddy — after showing up Otis Rush at a blues club. "The Mud wants you," someone told Buddy, who misheard and thought someone wanted to mug him. Instead, The Mud offered Buddy a sandwich and asked him to be a part of the blues that they had invented.
9. Muddy is listed as #17 on the Rolling Stone list of 100 Greatest Artists of all time
"It was all supposed to be disposable," Billy Gibbons wrote about the music that earned Muddy his position on RS's list. "Just noise on a shellac disc. And here we are in the 21st century still trying to figure out how such a simple art form could be so complicated and subtle. It's still firing brain synapses around the world. You've got the Japanese Muddy Waters Society corresponding with fans in Sweden and England, and his music can still propel a party in the U.S. He made three chords sound deep, and they are." And speaking of ZZ Top…
10. ZZ Top has a Long History with Muddy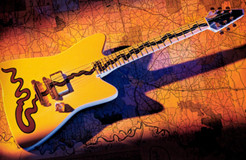 Muddy opened for ZZ Top on their 1981 tour, the band having long discussed Waters being their musical hero and biggest influence. Billy Gibbons also had a one-of-a-kind special instrument made in honor of the legend: the Muddywood Guitar, made from a piece of Cypress tree from Mud's own house.
Billy Gibbons went to visit Mud's house while it still stood neglected on the side of a road.  "As we were looking about," said Gibbons about the guitar's origins, "the [Delta Blues Museum] director picked up a piece of scrap lumber and said, 'Why don't you take a souvenir, here.' There was quite a large beam left over, and we loaded it into the car. I drove back to Memphis and I was speaking with Rick Rayburn and Rick Hancock, the proprietors of the Pyramid Guitar Co., and mentioned having this piece of wood. I said, why don't we make a guitar out of it? They said sure, let's have a look. I unloaded it and left it with them, and two weeks later they called and said they had a couple of things in mind, why don't I stop by?"
"I drove back, spent about 20 minutes doing the design. It was humble beginnings for what really is an offering to the Delta Blues Museum. The guitar can be a focal point for modern blues musicians to pay homage to the museum, which has been doing a fine job of preserving this art form we now know as American music." Speaking of Muddy's old house…
11. Muddy's Stovall House has been almost as many places as Muddy!
Once in the 1990s, House of Blues leased the original log cabin that Mud called home before his trip to Chicago. They dismantled it, cleaned and treated the wood and made the house into a traveling museum, displaying the humble origins of one of history's most prolific trailblazers across the country. In the decade before that, a tornado blew the roof off of the house.
Today, the Delta Blues Museum has created a special wing of the museum strictly for Muddy memorabilia, including not only his original log cabin, but Muddywood as well.
While Muddy's humble beginnings have been preserved for the world to gaze upon, hope, and be inspired, his legacy in Chicago is on far less stable ground…
12. Muddy's ornate Chicago Home is in danger
Nobody seems to know quite what to do with Mud's house — yet. Waters' great-granddaughter owned the building since 2002, according to the Huffington Post, though due to the nature of an unoccupied building facing harsh Chicago winters, the structure has taken its share of expensive damage and is in dire need of serious repairs. The building even landed on Illinois' Ten Most Endangered Historic Places of 2013.
"The city of Liverpool would recognize the historic, cultural and tourism value of John Lennon's house and never allow it to be torn down," Alligator Records boss Bruce Iglauer told the Chicago Tribune in 2013. "Muddy Waters was every bit as important to the blues and to Chicago as the Beatles were to rock 'n' roll and Liverpool."
One possible upside to the Lake Park Ave. home is it's protected status within the North Kenwood landmark district, according to the Chicago Tribune. The landmarks commission would have to approve any demolition. Nonetheless, despite a widespread cry from the blues community and the many, many people that recognize his giant role in popular music, the city of Chicago appears disinterested in honoring the role of one of their most famous icons, and as of yet, no plan has been put forth to create something from Mud's Chicago legacy.
13. Muddy made other trips before sticking in Chicago
He turned down an invitation from Robert Nighthawk to take him to Chicago in the late 1930s… imagine how different the world might be had he not! Also, the Chicago Blues could have almost been the St Louis Blues! In 1940, Mud moved to Saint Louis. (Fun fact: That also would have meant Muddy was in Saint Louis around the time Chuck Berry was making is very first public performance, according to the New York Times.) He couldn't make anything happen in the town, so he returned to Stovall's Plantation.
Three years after his return, he would finally have what he needed to become one of the greats, thanks in part to a chance recording session that would change his life…
14. Musicologist Alan Lomax was the first to record Muddy
Lomax and John Work were traveling around the Clarksdale, Mississippi area in August, 1941 recording folk singers from the fields and street corners for the Library of Congress. Acting off of a tip, they headed to the home of McKinley Morganfield, where he played some songs while the music collectors recorded on shaky equipment that they carried in the trunk of their car. "So I just went along and made that 'Country Blues'," Muddy said in Robert Palmer's biography, Can't Be Satisfied: The Life and Times of Muddy Waters. 
Muddy later said when he heard the record, he felt like he was hearing himself for the first time. "When he played back the first song I sounded just like anybody's records." he told Rolling Stone Magazine back in October, 1978 — almost 40 years later. "I carried that record up to the corner and put it on the jukebox. Just played it and played it and said, 'I can do it, I can do it.'"
Lomax returned the next year to record Muddy again, and the recordings, which for some time were rare and hard to acquire, were released as Down On Stovall's Plantation back in December, 1966. While these seminal early recordings are still hard to come by, they're not impossible to find!
15. At age 18 Muddy opened a juke joint
"If he were carted off, the hands would be losing not only one of their bootleggers, but also their most popular musician," wrote Robert Palmer in Can't Be Satisfied: The Life and Times of Muddy Waters, about how Colonel Stovall protected Muddy from those coming around looking to bust him. At Muddy's juke joint, patrons could drink, gamble, eat fried fish and listen to music.
Not much is known about the place past it's one-time existence. After all, juke joints were never known for their high profiles, which would have been dangerous, and were usually run out of someone's house. But the thought of catching a beer and listening to the jukebox at Muddy Waters' own juke is enough to give blues fans plenty to dream about.
16. Once in Chicago, Muddy recorded "Mean Red Spider" for the 20th Century label as James "Sweet Lucy" Carter
It was between the Columbia and Aristocrat recording sessions, and presumably Muddy had to change his name to avoid contractual problems, something a number of bluesmen did in that day. Muddy recorded "Mean Red Spider" for the 20th Century label as James "Sweet Lucy" Carter. Here's Mud playing "Mean Red Spider", though we were unable to verify if this was the original recording in question.