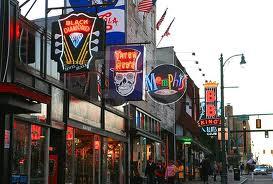 The B.B. King Beale Street Memorial is this afternoon at 12:45 CST, and American Blues Scene will be sending live coverage of the event, including video and images, through Twitter and Facebook. Just after noon, a procession including King's body will move to Beale Street's Handy Park for a tribute. King's nickname came from his time in this city when he started being called "Blues Boy," which was later shortened to B.B.
On Friday, May 29, a public viewing will be held at the B.B. King Museum in Indianola from 10 a.m. – 5 p.m. The funeral services will be held at the Bell Grove M.B. Church in Indianola on Saturday, May 30, from 11 a.m. – 3 p.m. At approximately 4 p.m., a procession will be led from the church to the Museum, and there will be a private graveside service for family and friends at 5 p.m.
"There are any number of reasons we are glad B.B. is being brought back to Mississippi," said Gov. Bryant. "First and foremost, he's one of our state's most beloved native sons," he said.