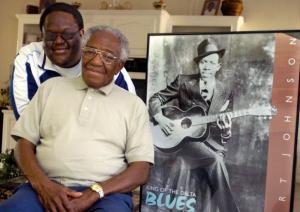 JACKSON, Miss. (AP) – A son of legendary Mississippi blues artist Robert Johnson became rich by winning a court fight over his father's estate. But even when finances were no longer a concern, an attorney said Claud Johnson kept the gravel truck he had driven for years — a reminder of the hard work that guided his own life.
Claud Johnson was 83 when he died Tuesday, said John Kitchens, who represented him in the extended legal battle over the estate of Robert Johnson.
The Mississippi Supreme Court ruled in early 2014 that Claud Johnson could keep the profits from the only two known photographs of his father. Legend has it that Robert Johnson, who wrote "Me and the Devil Blues" and "Crossroads Blues," sold his soul to the devil for his talent.
Robert Johnson did not leave a will when he died in 1938 at age 27. He was destitute, but his estate later made millions. A collection of his recordings won a Grammy in 1990, and the album cover featured one of the two known photos of the lanky Johnson, wearing a suit and holding his guitar.
A court declared Claud Johnson the musician's sole heir in 1998. Other relatives sued him in 2000, but the state Supreme Court ruled in 2014 that the lawsuit had been filed too late.
Claud Johnson had worked several jobs, including as barbecue restaurant owner in early adulthood and as a painter for an electric company and a gravel truck driver in later years, Kitchens said.
"Even before he inherited his father's estate, he would buy lots of fruits and nuts and put them in baskets and deliver them to elderly homebound people in the community," Kitchens said Tuesday. "The only real change after was that his list grew bigger and the baskets were larger."
Kitchens said one of Claud Johnson's sons sent him a text early Tuesday to say his father had passed away. Kitchens said he didn't know whether Johnson, who had struggled with diabetes and other health problems, died in a hospital or at home in the small town of Crystal Springs, Mississippi.
Funeral arrangements were incomplete Tuesday. Claud Johnson's wife of 60 years, Earnestine, died about two years ago. The couple had six children, Kitchens said.