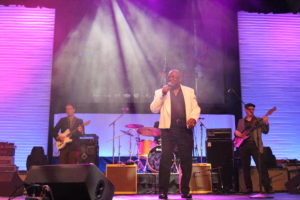 Mighty Sam McClain, the last of the truly great red clay soul voices in American music, died June 15, 2015 at the age of 72 after a fight with cancer and related complications. Sam led a remarkable and rich life, full of struggle and beauty. He left his home in Monroe, Louisiana as a teenager to escape an abusive stepfather and rose to the pinnacle of his art, touring the world, creating a legacy of albums that define the character of the human spirit, and continuing to grow and evolve as an artist and man until the very end. For the last decades of his life, he lived in Epping, New Hampshire with Sandra McClain, his devoted wife and business partner.
The songs Sam wrote and chose to sing — whether soul, spiritual music, R&B, blues, funk or the cross-cultural love duets he recorded in recent years with Iranian vocalist Mahsa Vahdat — were transformed by the elemental properties of his voice, which seemed as strong, natural and enduring as a redwood, as deep and swirling as the Mississippi, and as clear in its messages and ability to bear witness as a prayer.
Sam was a man of faith, and often his songs — even hits like "New Man In Town," which he recorded for his 1997 album Journey and was prominently featured in the TV series Ally McBeal — were directed to or from the spiritual realm. That number, in particular, announced the arrival of God in his life, in a renewed and inspiring way. But even his first hit, the 1966 recording of "Sweet Dreams" – the Don Gibson composition made famous by Patsy Cline in 1963 – that propelled Sam onto the national R&B scene and the stage of the Apollo Theater, was infused with the spirit of the music he first sang in church as a child. For Sam, the "you" in the line "sweet dreams of you" was his Maker, not a woman.
Samuel McClain was born in Monroe, Louisiana in 1943. His father left when Sam was two years old, and he began singing in his mother Emily's Baptist church at age five. Even at that age, he knew he had a gift and determined to use it. Sam began to sing professionally in elementary school, when his physical education teacher put a backing band together and began booking him at kids parties and dances. But at age 13, after years of abuse from his stepfather, he'd had enough. He considered shooting the violent man with one of his own hunting rifles. Instead, Sam left home, sneaking out through a window at night, and did not see his beloved mother for four decades. He carried the pain of that experience throughout his life.
Initially Sam followed local R&B guitarist "Little Melvin" Underwood along the Chitlin Circuit, first as his valet and, by age 15, as Underwood's featured vocalist. "I didn't care about money," Sam said. "I wanted to be around music and I would do anything to do that." Sam got his first taste of performing for large audiences then, but not under his own name. Underwood was notorious for putting together phony versions of the Drifters, the Chubby Checker band, the Phantoms and other hit-makers of the day, and mounting tours that sometimes took the faux outfits into theaters and arenas. Sam was a member of Underwood's pseudo-Phantoms.
After a show in Pensacola, Florida, Underwood announced that he was leaving for Wisconsin. Sam stayed behind. He adopted the name "Good Rockin' Sam" and worked out of the area for a decade, building a strong reputation in clubs and roadhouses with a bristling, powerhouse voice that equaled those of his heroes, who included Clyde McPhatter, Little Willie John, B.B. King and, primarily, Bobby "Blue" Bland. One night Sam was erroneously billed as "Mighty Sam" on a gig at Pensacola's Tom's Tavern, and the name stuck.
Eventually Sam signed a production contract with Pensacola disc jockey "Papa" Don Schroeder, who took him to Rick Hall's Fame Studios in Muscle Shoals, Alabama. There, Sam cut "Sweet Dreams" and 17 other sides over a two-year period. After "Sweet Dreams" broke, he began playing larger stages in a triangle from Florida to Chicago and Detroit to New York City. He was backed by King Curtis's band on his second appearance at the Apollo in Harlem. In 1966 Sam brought his friends James and Bobby Purify to Schroeder's attention, and as their star climbed with "I'm Your Puppet" and Shake a Tail Feather," his own career plummeted.
"Boom! Quick as it happened, the bottom fell out," he recalled. "And Don became too important to even talk to me." After two unsuccessful singles for Atlantic Records and another for Malaco, Sam was foundering. By 1975 he'd moved to Nashville,
hoping that Music City would rekindle the spark. Instead he turned to selling marijuana and, after narrowly missing arrest when his home was raided by police —Sam said he had a vision that warned him of the raid, so he relocated his stash — he took a job at International House of Pancakes. His luck did not improve, and by 1982 he was living in New Orleans in an abandoned car. "I slept on the streets," Sam said. "I sold plasma."
Slowly, he began to rebuild his career, playing all-night gigs at the tourist clubs along Bourbon Street. He also met producer/record label owner Carlo Ditta, who took him into the studio to record an EP that included Sam's blues hymn "Pray." New Orleans musicians and booking agents began to take notice of his astonishing vocal abilities. A chance encounter with a Japanese tourist visiting the Crescent City led to a tour of Japan and a live album in 1987 that raised his profile. The same year he appeared on Hubert Sumlin's Blues Party, an album organized by guitarist Ronnie Earl for the then-high-profile US blues label Black Top. The four songs Sam sang on that album began getting him consistent airplay in the US for the first time in nearly 20 years.
In 1990 Sam organized and headlined the Southern Soul Revue tour, which put him, North Carolina blues shouter Nappy Brown and New Orleans' famed "Tan Canary" Johnny Adams along with blues guitar innovator Wayne Bennett in a van together for a month of one-nighters. McClain headlined and proved his mettle with heart-rending versions of "Pray," the Sam Cooke hit "A Change Is Gonna Come" and songs from his own catalog. Encouraged by several musicians who spent their time between New Orleans and Boston, Sam relocated to that city's Fenway neighborhood the next year.
During all those years, Sam had been honing his songwriting skills. In 1993 he signed a contract with the AudioQuest label and recorded the brilliant and deeply soulful Give It Up To Love, which featured nine original songs and put him in the spotlight of the international blues, soul and R&B scene. Quickly he was headlining clubs and appearing at festivals in the U.S. and abroad.
Sam released four more albums on AudioQuest plus Joy and Pain — Live in Europe on Germany's Crosscut Label before signing with the larger Telarc Records in 1999. His next two Telcarc recordings, Blues for the Soul and Sweet Dreams, garnered his first Blues Music Award nominations.
The 1990s were a dynamic and life-changing period for Sam. He started to crystallize a new vision for his music. His writing began to weave together the spiritual and the secular, and the stories in his songs became compelling parables from everyday life and from his own experiences that made keen observations about faith, dignity, race, oppression, freedom and social responsibility. He was rewarded by the many letters he regularly received from fans around the world who said their lives had been changed for the better by his music.
In a typical display of his willpower, he gave up drinking one day, literally, after deciding it was interfering with his goals and his personal life. Most important, he married Sandra, affirming their deep romance, which would last throughout the remainder of his life. Through her and her children, he also found the loving family connections that he had craved for so many years. In 1995 Sam also formed a musical partnership with his bandleader and guitarist Pat Herlehy, who would also become Sam's co-arranger, engineer and co-producer. They remained close friends for 20 years and recently created two more albums, Undiscovered — Diamond in the Rough and Up From the Dust, which have yet to be released.
Unsatisfied with his business dealings within the music industry, Sam started Emily's Son Publishing in 1996 and then launched McClain Management with Sandra. He also began producing his own albums and in 2003 created his own label, Mighty Music, with the release of One More Bridge To Cross. That album was followed by Betcha Didn't Know in 2009 and 2012's Too Much Jesus (Not Enough Whiskey), which garnered more Blues Music Award nominations.
Sam's social consciousness, his time living on the streets and the hardships he endured in childhood made him a perfect fit for the 2008 benefit compilation Give Us Your Poor, which was dedicated to raising funds to fight homelessness. Rock star Jon Bon Jovi duetted with Sam on Sam's original song "Show Me the Way," co-written with his saxist Scott Shetler. Touring behind the project, Sam appeared onstage at Lincoln Center and the Kennedy Center.
The next year Norwegian guitarist and songwriter Knut Reisersrud invited Sam to make an album of love duets with Iranian folksinger Mahsa Vadhat. The album, Scent of Reunion: Love Duets Across Civilization, was an effortlessly beautiful bridge that transcended cultures and ideology to speak in the language of the heart. It reached number six on the European world music charts and was nominated for a Grammy in Norway. They recorded an equally remarkable sequel in 2012 titled A Deeper Tone of Longing, which followed a 2011 soul-blues collaboration between Sam and Reisersrud called One Drop Is Plenty. Sam also lent his voice to the theme song for filmmaker Ernest Thompson's 2013 drama Time & Charges.
In recent years, Sam's recordings became more rhythmically driving and intense, with Too Much Jesus (Not Enough Whiskey) at times evoking the classic funk of James Brown and Sly Stone thanks to Sam and Herlehy's arrangements and the raw, focused power of his road-honed seven-piece band. The unreleased Up From the Dust showcases Sam and Herlehy blending yet another element into Sam's music – '60s rooted, groove driven psychedelia.
While Sam never achieved the fame of his idols like Bland and King, he did share bills with them and even sang with Bland on stage at a California festival, which he recalled as a highlight of his career.
Sam's importance within the cultural and artistic realms of American music was largely misunderstood by the music business establishment and even by many fans. He was a living bridge between the deep historic roots of African-American gospel music, the old-school sounds of rhythm and blues, soul and funk, and the cutting edge, which is reflected in the body of his work.
Sam was a reasonable man and artist with a glorious musical gift, driven by self-determination and a respect for himself, his considerable accomplishments, his family and his art. And in the music business, those qualities are not always welcomed by the paternalistic power structure. Sam openly shared his feelings about that with both his friends and his fans.
His perspective was also shaded in part by his experience growing up in the Jim Crow south. He told a story about having an Alabama promoter cancel one of his late-'60s shows because he arrived at the gig with his then-wife, who was white. The week before a local African-American man had been shot to death for marrying a white woman in the same town. Nonetheless, Sam went to his death believing that his musical legacy would live on and some day find a greater audience than it did during his life.
Sam declared that "to me, making music is all about freedom. I believe I have a gift from God and I've worked hard all my life to pursue my own vision of it. This is what I do, and I'm going to keep doing it as long as God gives me breath."