Find out what passagreen really means in this installment of our popular weekly series, The Language of the Blues, in which author and rock musician Debra Devi explores the meaning of a word or phrase found in the blues.
Grab a signed copy of Devi's award-winning blues glossary The Language of the Blues: From Alcorub to ZuZu (Foreword by Dr. John) at Bluescentric.com.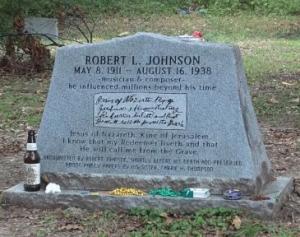 Although legendary blues artist Robert Johnson is presumed to have been poisoned by whiskey laced with strychnine by a jealous husband, blues singer David "Honeyboy" Edwards has said Johnson is more likely to have been poisoned with passagreen, a tasteless, odorless backwoods poison extracted from mothballs. Passagreen will make you sick, but in most cases won't kill you, raising the possibility that the husband only meant to drive Johnson off, not murder him.
Johnson, harmonica player "Sonny Boy" Williamson (Aleck "Rice" Miller), and Honeyboy Edwards were the entertainment at a Greenwood, Mississippi, juke known as Three Forks one Saturday night in July 1938. Johnson had been a fixture at the joint for a few weeks, and had found female company–the wife of the man who ran Three Forks. She was pretending to come to Greenwood to see her sister, but was actually visiting Johnson on the sly.
That July evening, however, Johnson and the lady may have made their affection for each other a little too obvious. On their break, Johnson and Williamson were standing outside when someone handed Johnson an open half-pint of whisky. Williamson purportedly knocked it out of his hand, saying "Man, don't never take a drink from an open bottle. You don't know what could be in it."
Irritated, Johnson snapped, "Man, don't never knock a bottle of whiskey out of my hand." When a second open bottle was offered to Johnson, he took a swig.
Johnson and Williamson returned to the stage, but several minutes into their set, Johnson could no longer sing. Williamson covered for him on vocals, but after a few songs Johnson set down his guitar midsong.
By the time Honeyboy Edwards arrived around 10:30 p.m., Johnson was retching and too weak to continue playing. He was laid across a bed in an anteroom and taken in the early hours of the morning to his room in "Baptist Town," an African American neighborhood in Greenwood.
Young and strong, Johnson rallied initially, but over the next two weeks he grew steadily weaker. By the time he was taken from Baptist Town to a private home on the "Star of the West" plantation, where he was nursed around the clock, he had probably contracted pneumonia. He died on August 16, 1938. Some researches speculate that Johnson may have had Marfan Syndrome or some other underlying condition that exacerbated the effect of the passagreen.