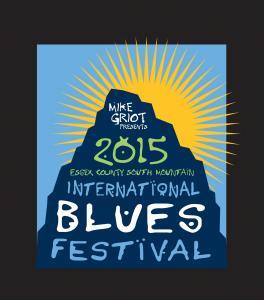 New Jersey is rarely thought of as a bastion of the blues–even though Johnny "Clyde" Copeland, John Hammond and Hubert Sumlin lived there, and the state is currently home to blues stars Joe Bonamassa, Shemekia Copeland and Robert Randolph. Promoter, bassist and positive force of nature Mike Griot is doing all he can to change this perception, as founder of North Jersey's biggest free day-long blues festival: South Mountain International Blues Festival, which takes place September 13 at South Mountain Reservation in West Orange, NJ, twenty minutes west of Newark.
Griot also curates the Blues In The Loft series at South Orange Performing Arts Center and serves as Board Chairman of North Jersey Blues Alliance. This year's dynamic lineup at South Mountain International Blues Festival includes JSP Recording artist Michael Hill's Blues Mob, True Groove recording artist Tomás Doncker; Eliza Neals, who is making a splash with her new album Breaking and Entering; jazz guitarist Dave Stryker, well-known for his years with Stanley Turrentine; and Billy Hector, who has toured with Joe Louis Walker and Hubert Sumlin and leads a fiery rock-blues band.
Griot is one of only a handful of African Americans nationwide running a major blues festival, something this gregarious impresario also hopes to change. On November 8, he's hosting a roundtable discussion at his "Blacks in Blues" performance at Luna Stage Theater in West Orange NJ to explore the past and present role of African Americans in the blues, and what can be done to encourage more African Americans to participate in the business side of the blues.
"The Oranges," as this part of New Jersey is known, has one of the highest percentages of African Americans in the United States at around 75%, plus a large Haitian-American population and the largest concentration of Guyanese in the nation. About his commitment to promoting the blues in this urban region, where rap reigns supreme, Griot notes: "Created through the African-American experience, the blues is integral to who and what we are as a nation. It's our own classical music. Once exposed, most Americans instantly recognize that much of their favorite music has its roots in the blues. I founded the festival to celebrate all of this, and bring a robust blues experience to the culturally-rich melting pot of northern New Jersey."
An Orange NJ native, Griot has traveled the world as the bassist for major blues, R&B, jazz, gospel and funk artists ranging from Joanne Shaw Taylor, Oli Brown and Ana Popovic to Stacy Lattisaw and Lauryn Hill. Taking a break from the road a few years ago, Griot settled into a refurbished firehouse/art gallery in Orange, and started his production company, PWI Entertainment, which launched South Mountain International Blues Festival in 2010.
American Blues Scene talked with Mike about how his own passion for the blues began and his dreams for the future of South Mountain International Blues Festival.
American Blues Scene: Who or what first turned you on to the blues, Mike?
Mike Griot: Some of my earliest memories are of my Dad playing Bobby Blue Bland records at the house. Although my mother was the primary musical curator in our home, I remember that particular record because my dad only played albums on the weekends. My mother was by far the most influential in my daily appetite of music. It was not unusual for her to play everything from Mario Lanza to the Isley brothers! I do recall her being a big Nina Simone fan; that type of blues was more her particular taste at the time. It was actually not until the '90s and when I was called for a gig with blues guitarist Deborah Coleman that I really started to pay attention to the music and its various practitioners. It was definitely the great Michael Hill from Brooklyn on my first European tour who expanded my blues vocabulary, and that is where I learned the various conventions in the music that would ultimately lead me down a path through history and musical discovery.
ABS: Why did you structure the South Mountain International Blues Festival as a free festival? Who do you hope will be encouraged to attend?
Mike Griot: It was actually Essex County, New Jersey, and its leadership that had already established a free summer concert series. My festival, upon creation, was very fortunately placed at the end of an already established summer concert series. All shows are free in the parks in Essex County, and I knew this would be a great opportunity to promote my particular brand of blues music presentation. Since 2010, a diverse audience has supported the festival and many thousands of people enjoy the artists, music and that feeling you can only get at a blues show!
ABS: How many African Americans would you estimate run blues festivals nationwide? How do you hope to help increase the number of African Americans running blues festivals and involved entrepreneurially in the blues?
Mike Griot: I'm not sure what the actual number is, but I am positive that there is severe under-representation in this area. It has been quite interesting operating in this space; people have their preconceived notions about the music they enjoy, and the individuals who provide access to that music. I, like others, had to seek out lessons and examples from history to fully realize my place in it. I hope my blues events encourage others to do the same.
ABS: What are you looking forward to most about this year's South Mountain International Blues Festival?
Mike Griot: I've called back certain performers from past festival years to do a bit of a command performance. I am really looking forward to seeing all of my good friends killing the stage–and that includes me. too! I am actually performing twice that day; early in the day with Michael Hill, and later in the day with Tomas Doncker. What a great treat!
ABS: What are your plans for the future of South Mountain International Blues Festival and your Blues In The Loft series at South Orange Performing Arts Center?
Mike Griot: Bigger crowds, more sponsors and supporting organizations, and more dynamic programming and artists from around the world: these are all realistic short-term goals. This "blues festival journey" has been a joy and a privilege; and every year affords me the opportunity to make it bigger, better and more accessible to more people. What's better than that?