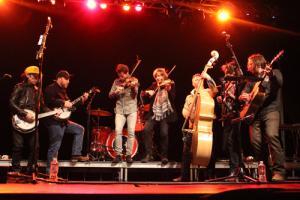 This weekend kicked off Bridging the Blues with Mighty Mississippi Music Festival, named number one new festival from American Blues Scene in 2015, with Band of Heathens, Chris Stapleton, Cedric Burnside, L.C. Ulmer, Super Chikan, Steve Azar, and a wide array of stellar music in the heart of the Mississippi Delta.
Last night, Old Crow Medicine Show talked in awe about the area they were playing and the stage they stood on. As the breeze blew in from the Mississippi River, the hit-making americana string band avidly talked the blues, the delta, and the Flood of 1927 in between playing a riveting, high energy set of crowd-favorite songs in an innovative way that both pays homage to traditional folk and American music in a vibrant new way.
The next morning kicked off the full-time blues stage. While the Highway 61 Blues Museum stage played the best in delta blues all weekend, the blues greats had their own day on Sunday, playing just feet from the Mighty Mississippi itself. Leo "Bud" Welch played his incredible, droning delta blues that's been making waves in the music world, followed by delta blues hero L.C. Ulmer.
The groundbreaking festival, proudly and distinctively set in rural Mississippi, pays homage to everything that makes the area great, with a lineup representative of the area's fans, and food and vendor trucks proudly showing the great, fun products of the south, including local BBQ, tamales and other food treats like the fun local Lost Pizza.
VIP tents were filled with fun, laughter and the occasional "Duck Dynasty" star or performer, and of course, the Ole Miss game. While an unusually cool breeze poured over the levee campgrounds, fans still braved the sudden fall weather en masse with boots, blankets, and dancing.
Bridging the Blues continues tomorrow with the second annual International Blues Symposium at Cleveland, Mississippi's Delta State University, where throughout the next several days, notable blues individuals and musicians, including this issue's cover feature Bobby Rush (on Tuesday) will have lively discussions, classes, and speeches about the blues.