See why blues fans like you are calling Blues Scene Magazine "the most interesting, filling the pages with stories that hit close to home." (D. Hofstedt) and "the Best Blues 'Zine around" (M. Yayes)! Subscribe and get high definition blues you can touch and feel in your mailbox four times per year, February, May, August, and November.
We believe in our exceptional full-color print publication so much that we want to invite you to take a look at an online copy of one of our fun print issues made just for blues fans absolutely free for a limited time. If you enjoy it, we need your subscription! It's safe and fast and you'll start getting awesome blues content like this regularly!
Click on Bobby Rush (or the photobombing goat) to check out Bobby, Ana Popovic, Toronto Cannon, 25 Most Important Dates in the Blues and more! If you like it, you can subscribe in this link OR at the bottom of this page!.
Click on the Image below to see our latest issue of Blues Scene for FREE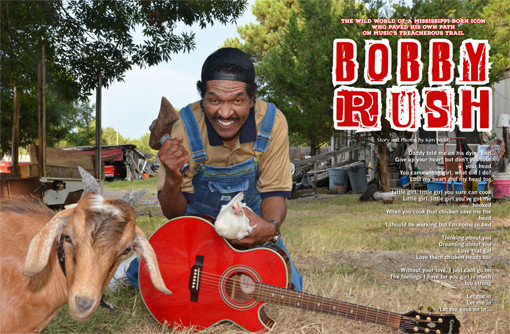 Subscribe Right Here!
Just select how long you want your subscription and press the "Buy Now" button. You'll be paying using PayPal, but you do not need a PayPal account to subscribe or pay.