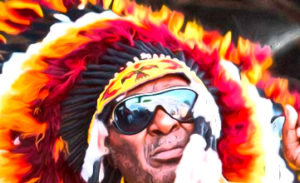 Editor's Note: Week number four of our five-week dedication to the 2016 Blues Hall of Fame honorees focuses on Chicago Blues giant, Eddy Clearwater.
1.  He was born Edward Harrington on January 10th, 1935 in Macon, Mississippi of mixed African-American and Native American ancestry and was raised by his Cherokee grandmother.
2.  He moved, with his family to Birmingham, Alabama and began teaching himself to play guitar (left handed and upside down) at the age of 13.  Some of his first gigs were with the Gospel group, Five Blind Boys of Alabama.
3.  At age 15, he moved to Chicago, Illinois and lived with his uncle, Houston Harrington, who owned the Atomic H record label.  Although his uncle introduced him to artists such as Otis Rush and Magic Sam, his first major influence was Chuck Berry and he developed an act much like his idol, going by the name of "Guitar Eddy".
4.  His first manager was drummer Jump Jackson, who named him Clear Waters as a play on the famous Muddy Waters name.  This was the name he used when he recorded his first single, "Hill Billy Blues" on his uncle's label.
5.  Clearwater was one of the first blues musicians to be successful in performing for the Chicago North Side college students.
6.  A fan gave him a Native American headdress as a gift and he wore it, while on horseback, on the cover of his first American album, The Chief, on the Rooster label in 1980.  The nickname stuck, and he has been known as Eddy "The Chief" Clearwater ever since, often wearing a headdress while performing on stage.
7.  His uncle Houston was not the only other famous member of the family as Clearwater is also a cousin to Carey and Lurrie Bell.
8.  Clearwater once owned a blues bar and restaurant in the Wicker Park area of Chicago known as Reservation Blues.  He also owns his own label, Cleartone Records.
9.  In early 1997, he underwent triple heart bypass surgery.
10.  The Chief was nominated for a Grammy Award for his work with the band Los Straitjackets on the Bullseye Blues album, Rock 'n' Roll City in 2004 and collaborated with Ronnie Baker Brooks and Billy Branch on the 2014 album, Soul Funky, having the CD release party at Buddy Guy's Legends.